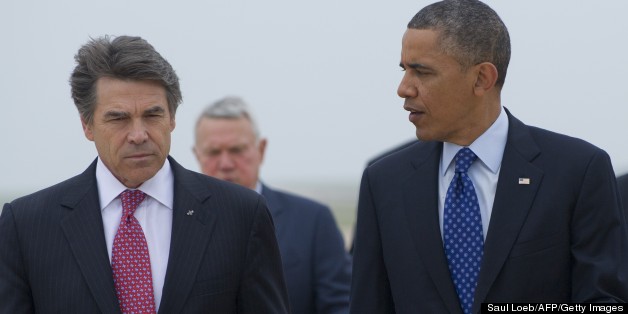 The federal government wants poor residents of states not expanding Medicaid under President Barack Obama's health care reform law to know who's denying them health coverage -- and the administration has a plan to make sure they find out.
When Americans begin shopping for benefits on the law's health insurance exchanges on Oct. 1, the people who would qualify for Medicaid but live in the 20-plus states where Republican governors or state legislators won't approve the expansion will see a note explaining that federal law allows them to get coverage that their states' leaders won't provide them, said Jeanne Lambrew, deputy assistant to the president for health policy. Lambrew and other senior administration officials briefed reporters at the Eisenhower Executive Office Building adjacent to the White House Friday.
The health care reform law calls for Medicaid, the joint federal-state health program for the poor, to be opened up to anyone who earns up to 133 percent of the federal poverty level, which is $15,282 for a single person this year. But when the Supreme Court upheld Obamacare last year, justices also ruled that states could opt out of the Medicaid expansion. The result will be millions fewer poor U.S. residents gaining health coverage, mostly among adults without children.
More than 20 states are opting out of the Medicaid expansion because of opposition from GOP governors such as Rick Perry of Texas and Bobby Jindal of Louisiana, or because majority-Republican legislatures blocked expansion plans supported by Republican governors such as Rick Snyder of Michigan and Democratic governors including Missouri's Jay Nixon.
Under the Obamacare law, the federal government will pay the full cost of covering newly eligible people on Medicaid from 2014 to 2016, then will gradually reduce its share of the funding until it reaches 90 percent in 2022 and years following. The federal government currently pays an average of 57 percent of states' Medicaid expenses.
The health insurance exchanges are online marketplaces where people who don't get health benefits at work can compare health plan benefits and costs, and learn whether they qualify for Medicaid or tax credits for private insurance. The federal government will run the exchanges in 34 states, while 16 states and the District of Columbia will manage their own exchanges.
In those states that didn't create exchanges, leaving the federal government in charge, people whose income is below 133 percent of the poverty level will see a notation explaining that their states declined to take up the Medicaid expansion that would have covered them, said David Simas, White House deputy senior advisor for communications and strategy. The exact wording of the notice hasn't been determined, Lambrew Said.
Some of those left out of Medicaid may qualify for tax credits to use on private health insurance, but many of the poorest likely will remain uninsured.
The health care reform law creates health insurance tax credits for people at the poverty line up to four times the poverty line -- but not below it. This means that those earning less than the poverty level -- $11,490 for an individual this year -- won't have access to these subsidies or Medicaid if their home states don't expand the program. Because these people will fall between the cracks, the Obama administration has exempted them from the law's individual mandate that most U.S. residents obtain health coverage next year.
This story has been updated to include the names of the senior administration officials who briefed reporters. After publication of this article, the White House agreed to alter the ground rules for the interviews.
BEFORE YOU GO
PHOTO GALLERY
States With Medicaid Policies That Hurt The Poor