 Finishing a marathon is an impressive physical achievement for any runner, but for John Nichols — who two decades prior became quadriplegic from a waterskiing accident — finishing the Chicago Marathon was an odds-beating triumph.
Monday, the inspiring Chicagoan was honored with the Bill and Maggie Daley Award for being the top fundraiser in the 2012 Bank of America Chicago Marathon. According to a BOA release, Nichols raised a whopping $43,000 for the Spinal Cord Injury Association of Illinois.
"This award is a culmination of a 20-year celebration as a person with a spinal cord injury and an opportunity for me to pay it forward to others suffering from SCI," Nichols said at the ceremony.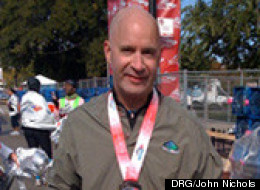 Nichols after the 2009 Chicago Marathon.
The 52-year-old Lincoln Park resident was paralyzed from the neck down following the 1993 accident, but after years of therapy, Nichols reached a level of recovery that "less than one percent of all spinal cord injury patients attain," according to a statement from BOA.
Nichols ran his first Chicago Marathon in 2009. The Sun-Times notes Nichols still does not have complete control of his right hand and right leg but has run in every Chicago Marathon since 2009, last year notching his personal record, an impressive 4:32:08.
During the Monday awards ceremony, Nichols told the Sun-Times the punchline here is, "Sometimes in life, we get to choose the cause, but most of the time, the cause chooses you."
BEFORE YOU GO
PHOTO GALLERY
Chicago Marathon 2012