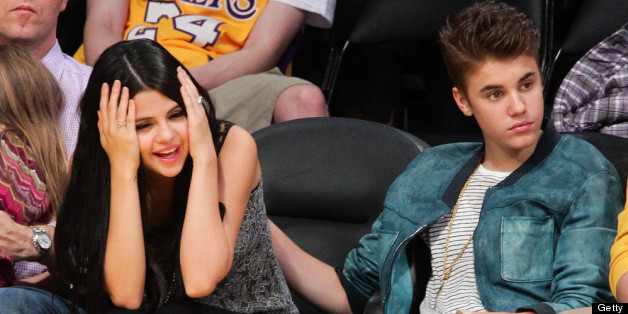 When a photo of Jelena hit Instagram last week, the internet waited with bated breath to confirm whether Justin Bieber had reunited with his #Heartbreaker Selena Gomez. Suspicions were coupled with the news that the two had spent the Fourth of July together, and now there is photographic evidence.
Gomez initially balked at the idea of taking Bieber back, because, as TMZ put it, "he and his friends have been acting like raging self-entitled jackasses the last few months." So, when she decided to love him like a love song again, the "Come and Get It" singer had one condition: "he's gotta stop acting like a d-bag." We feel you, Selena.
Now, the two tiny pop stars are reportedly back together, and their newfound unity was confirmed on Independence Day: Justin holding a Dos Equis, Selena with red cup in hand. TMZ makes a point of reciting the drinking age (which is the same in Hollywood Hills, where Jelena was spotted, as it is in the rest of this fine country) but Justin could have easily just been holding on to that beer while the legal adult who was chaperoning the party prepared some healthy snacks; red cups are sometimes filled with water. Anyway, we don't really care, as long as he can avoid any additional pee incidents.
BEFORE YOU GO
PHOTO GALLERY
Justin Bieber and Selena Gomez at The American Music Awards