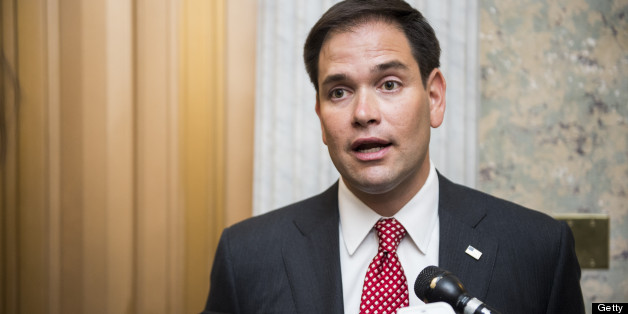 Latinos of all ages are more likely to identify with the Democratic Party than the GOP, a Gallup poll released Monday says.
The new poll gave few encouraging signs to a Republican Party facing an internal struggle over immigration reform and how to attract Latino voters as the country's demographics change.
If there's a silver lining for conservatives, it's that the tendency to favor the Democrats is less pronounced among younger voters. In the 18 to 29 age group, some 21 percent of respondents identified as independent voters with no political leanings, while 50 percent said they lean Democratic. That's better for Republicans than the oldest age group, those 65 and older, 59 percent of whom lean Democratic and only 12 percent of whom consider themselves independents.
But any way you slice it, Republicans tend to do poorly among Latinos, the poll shows. Only 24 percent of Latinos 18 to 29 say they lean Republican, according to the survey. That's only 3 percentage points higher than Latinos aged 50 to 65, who identify the least with the GOP.
And perhaps worse for conservatives, Hispanics give high marks to President Barack Obama. The president's approval was highest among the youngest cohort, at 72 percent, and dropped as the age cohort rose. Latinos over 65 gave Obama the lowest approval, with 62 percent.
The Gallup poll was based on a random sample of telephone interviews with 7,901 Hispanic adults.
The GOP has struggled to find a consensus over how to reach the growing number Latino voters in the wake of the 2012 presidential election, in which Mitt Romney fielded just 27 percent of the Hispanic vote -- a worse performance than any candidate since Bob Dole's 1996 run.
For most analysts, the reason was clear: Romney embraced hardline positions on immigration and rhetoric that offended many Latinos. That made it difficult for Romney to sell a small-government agenda that isn't attractive to most Hispanic voters in the first place. (Latinos tend to favor a larger government that provides more services and social programs like Obamacare in larger numbers than the general public.)
Since the election, an emerging group of conservatives including Sen. Marco Rubio has tried to make progress on immigration reform -- an emotional issue that the overwhelming majority Latinos agree should be addressed, to judge from polling data.
But many conservatives aren't excited about seeing immigration reform pass. Many House Republicans continue to oppose the bipartisan, comprehensive bill passed last month by the Senate, which pours more than $40 billion into border security measures. Former Alaska Gov. Sarah Palin made the nonsensical claim that supporting immigration reform "disrespects Hispanics."

BEFORE YOU GO
PHOTO GALLERY
Why Militarizing The Border Is A Bad Idea