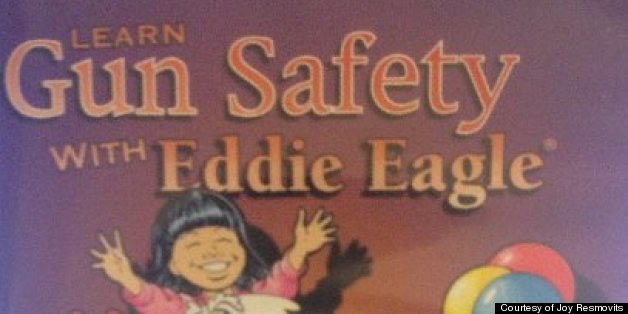 In between learning how to read and perform simple addition, some Missouri first-graders may soon also be taught gun safety.
On Friday, Missouri Gov. Jay Nixon signed into law a bill that includes a provision encouraging Missouri schools to teach a National Rifle Association-sponsored, gun-safety class to some of the state's littlest learners. The legislation, which was first proposed a day before the Sandy Hook massacre in December 2012, gives schools the freedom to determine whether or not they would like to offer the course, according to Fox News. Schools that offer the program are eligible to apply for additional state funding.
The NRA course is called the Eddie Eagle Gunsafe Program and it has been offered in states across the country since its inception in 1988. However, Missouri is one of a handful of states that supports using the program specifically in law. Other states may be allowed to teach the class, but only Missouri and several other states explicitly endorse the program in legislation, reports Fox News.
The program is designed to "promote the protection and safety of children" and teaches students that if they see a gun they should, "STOP! Don't Touch. Leave the Area. Tell an Adult," according to the program's website. However, according to Think Progress, research has not proven that the program decreases participants' rates of death from guns. Think Progress references a study that found the instruction "went unheeded when children were given scenarios and asked to role-play a response."
Nonetheless, while another study says the program is designed to attract the next generation of NRA members, the Missouri bill explicitly states that course instructors must remain neutral and refrain from making "value judgments about firearms."
According to CNN, local parents have mixed feelings on the legislation.
"I think I'm a lot more interested in teachers and the legislature being focused on math, science and reading for our first-graders instead of an NRA curriculum. I trust the parents to teach the kids properly about the power of guns. That is where the responsibility lies, not in a school curriculum," Missouri parent Amy Jordan Wooden told the outlet.
Another parent, Cathy Peters, disagreed. "There are too many kids who grab the guns and kill their cousins. I agree, I think they should know gun safety. It would be helpful," according to CNN affiliate KCTV.
It is currently unclear if the bill will actually be effective in encouraging schools to adopt the course, per Fox News.
Language regarding the Eddie Eagle program was included in the larger public safety bill HCS/SB 75. The law also requires all school personnel to participate in a "simulated active shooter and intruder response drill conducted by law enforcement professionals."
BEFORE YOU GO
PHOTO GALLERY
Top 10 Most and Least Religious States