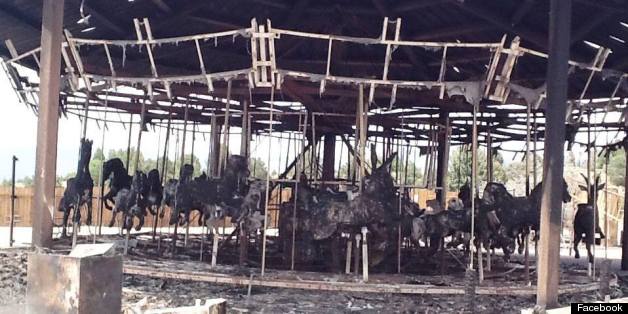 The fire that burned over 3,000 acres could cost the Royal Gorge Bridge and Park tourism attraction $25-$35 million.
The Royal Gorge fire that broke out near Canon City last month destroyed almost everything but the bridge that stands 955 feet above the Arkansas River and is regarded as the highest suspension bridge in the United States. An antique carousel, an aerial tram and the park's visitor center were among the structures that were lost in the fire.
The bridge remained unharmed except for 32 of the 1,292 burned wooden planks on the south end.
"It was great to see that bridge standing amongst all the devastation, " said Royal Gorge Vice-President and General Manager Mike Bandera.
Click here to see NASA photos of the Royal Gorge Bridge and Park after the fire devastation.
According to a news release by the park, approximately 1,000 guests and 100 employees were evacuated on the day the fire broke out in under two hours. The wildfire that had started on the south side of the Royal Gorge had actually jumped the gorge, damaging both sides of the tourist attraction.
Thankfully there were no casualties or injuries during the evacuation, and before the fire was fully contained the park was even blessed with the birth of a rare white buffalo they named Smokey.
"It's easier to tell people what survived," Bandera said. "The internationally recognized thrill ride, the Royal Rush Skycoaster was unscathed, our Plaza Theater, and our mini-train. It's important to us, to the City of Canon City, and the region to be able to open up the bridge as soon as we can."
Since the bridge was built in 1929, it is estimated that the park has received close to 26 million visitors.
BEFORE YOU GO
PHOTO GALLERY
Royal Gorge Bridge And Park Fire Damage