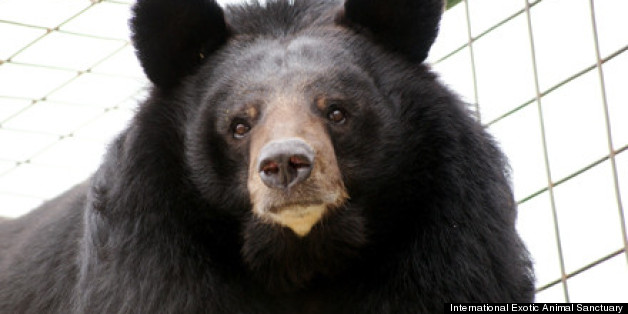 After being rescued from the concrete pits and inhumane conditions at a North Carolina bear park, a sleuth of bears is happily adjusting to new life at an animal sanctuary in Boyd, Texas.
The International Exotic Animal Sanctuary (IEAS) announced last week that the 11 bears that had been rescued from Chief Saunooke Bear Park earlier this year had not only moved into the sanctuary, but had already kick-started their road to recovery.
"[The IAES] will provide these bears with the best quality of life possible in large, naturalistic habitats. It's a dramatic contrast from the life they knew before," said Richard Gilbreth, executive director of the sanctuary, according to a media release. Gilbreth added that the bears, which are undergoing rehabilitative programs, were "responding well" to their new home and had already begun forming bonds with both their ursine companions and human caregivers.
The two Asian bears, six American black bears and three grizzly bears were rescued in January after the Chief Saunooke Bear Park was shut down by the U.S. Department of Agriculture. At the time, federal inspectors said the bear pit, located in Cherokee, N.C., was "failing to provide the bears with appropriate food, proper veterinary care and a safe enclosure."
Representatives for the People for the Ethical Treatment of Animals (PETA), which worked for years to shut the park down, said this month that they are thrilled the animals have found a safe and happy home.
"Instead of begging tourists for junk food such as Lucky Charms cereal, they feast on fresh plant food, including their favorite treats: avocados, grapes, peanuts, and watermelon," the animal rights group wrote on its website. "Rather than turning in endless circles or rocking back and forth, they now climb trees, amble through underbrush, and forage. Instead of being sprayed with water to force them to get up and 'entertain' tourists, the bears have an animal behaviorist working to help them recover from years of an unnatural life."
With the bears' relocation, the IEAS is now said to house more species of bears than any other facility in Texas.
Click through the slideshow below to see the bears in their new home, visit the IEAS website to find out how you can "adopt" them:

PHOTO GALLERY
Rescued Bears At The IEAS
BEFORE YOU GO