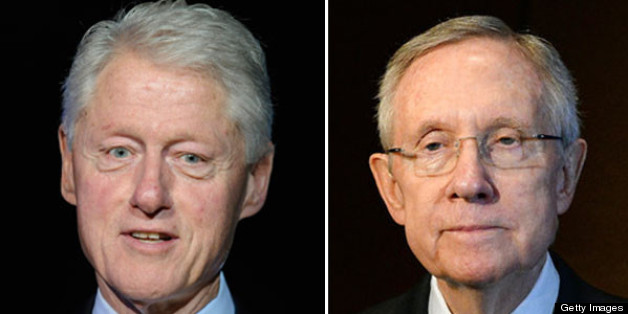 Former President Bill Clinton praised Senate Majority Leader Harry Reid (D) in a speech Wednesday, saying the Nevada Senator "worked magic" on a deal to approve seven of President Barack Obama's long-blocked nominees and avoid the "nuclear option."
"The best problem solving requires cooperation," Clinton said during a speech at the Environmental Protection Agency headquarters, according to Politico. "And so here we are. Senator Reid finally found a cooperator in the last 48 hours and worked his magic again. Thank you very much."
HuffPost's Mike McAuliff and Sam Stein reported earlier on the deal:
The deal, which was negotiated primarily between Senate Majority Leader Harry Reid (D-Nev.) and Sen. John McCain (R-Ariz.), was described by a Senate Democratic aide as one in which the Republican Party will allow votes to confirm the seven executive nominees, provided that Obama replaces his two nominees to the National Labor Relations Board with two other names. Those nominees would have a commitment "in writing" from GOP leadership to get a vote, the Democratic aide said.

...

Under the proposed deal between the two parties, which the Democratic aide cautioned was "not final yet" as of 11:00 a.m., Reid would also retain the right to consider rules reform in the future. There are "no conditions or restrictions on future action whatsoever," the aide said. Another aide confirmed that position.
Clinton was speaking at the EPA during a ceremony renaming the EPA headquarters as the William Jefferson Clinton Federal Building.
BEFORE YOU GO
PHOTO GALLERY
Hillary And Bill Through The Years