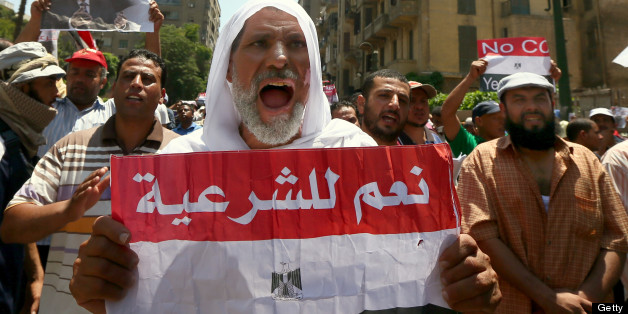 Egyptian security forces denied hundreds of arrested supporters of ousted President Mohammed Morsi their rights and severely mistreated several of them in detention, Amnesty International wrote on Wednesday.
In a new report, the international human rights group accuses Egyptian security forces of specifically targeting members of the Muslim Brotherhood for arrest, while beating and threatening Morsi supporters in detention. "Establishing trust in the justice system will be impossible if only supporters of Morsi and the Muslim Brotherhood are targeted while security forces are absolved of responsibility for unlawful killings and their failure to protect protesters from violence," Hassiba Hadj Sahraoui, Amnesty's Deputy Middle East and North Africa Program Director, warned on Wednesday.
In the wake of deadly clashes near the military's headquarters in Cairo on July 8, Egypt has arrested hundreds of supporters of Morsi and the Muslim Brotherhood on accusations of inciting violence. Several of the organization's leaders have been imprisoned and charged, while the ousted president himself remains detained in an unknown location.
Recently released detainees told Amnesty they had not been allowed to contact their families or a lawyer. Several claimed to have been held in small spaces and said they had been blindfolded, beaten and threatened.
A 19-year-old protester who was arrested outside the army headquarters on July 8 told Amnesty:
We were made to leave the mosque and lie on our stomachs in the middle of the road. They tied my hands behind my back with a plastic band... We were then forced into police cars and taken inside the Republican Guard Club... We were kept inside the cars until about 9am; it was extremely difficult to breathe because we were about 40 people squeezed inside and they did not give us water… Hours later, we were transferred to [name withdrawn] police station; there we were insulted, threatened and told that we were ruining the country. One [security officer] told me: "You want to meet God? We can show you tonight."
Shehab Ali was detained on the same day. He said:
As soon as they saw me, they told me to stop, raise my hands, and then lie on the ground face-down… They punched me, kicked me a few times, and hit me with the backs of their rifles; this lasted for about 15 minutes… There were two other men arrested near me, lying in the same position... We were left in the street like that for a few hours, and every once in a while soldiers would come, step on us, kick us and say something insulting… They eventually took us inside the Republican Guard Club, keeping us in the cells with the conscripts who were being disciplined.
Hundreds of Morsi supporters gathered in front of the Cabinet building in Cairo on Wednesday to demand the reinstatement of their leader. According to the Associated Press, the military barred the protesters from reaching the building. The protest remained peaceful, but demonstrators sprayed graffiti slamming army chief Abdel-Fattah el-Sissi on the walls in the neighborhood.
Egypt's interim cabinet was sworn in on Tuesday by interim president Adly Mansour. As the AP notes, the cabinet includes women and Christians, but no Islamists.
BEFORE YOU GO
Captions by the Associated Press
PHOTO GALLERY
Egypt's New Leaders