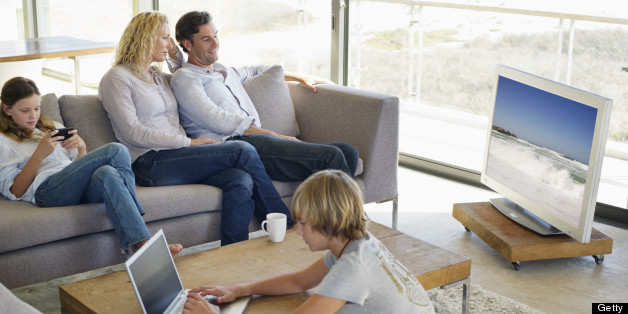 There's a new study out of Brigham Young University that says engaging with your kids on social media sites helps strengthen your bond. The study found that teens who were the most connected to their parents on Facebook, Twitter and other forms of social media felt closer to them in real life. Those teens were also less likely to be depressed, delinquent or behave aggressively.
I think it's safe to say that none of the 491 people polled were related to me. I go to the other extreme: My kids -- ages 12 and 15 -- aren't on Facebook or Twitter. My son dabbles on Instagram with strict monitoring by me, but that's the extent of it. Oh, and we text. We text a lot actually.
My 12-year-old son is at a sleep-away soccer camp this week. Our sole communication from him as of this writing has been one text that said: "K." It was a response to my repeated texts asking that he tell me how things were going, whether he was having fun, is he applying sunscreen liberally, was he drinking extra water because of the heat, what new soccer skills has he learned, was he eating some vegetables as well as just pasta and pizza at the buffet and did he remember to charge his phone because if he has, why hasn't he responded to all my texts?
When the "K" text landed, I quickly and excitedly shared it with my husband. "Well, we know he's alive," my DH said drolly. We actually learned far more than that. We learned that he is having the best time ever, isn't homesick at bit and wants to spend his time with his friends -- old and new -- not talking to his parents.
Yes, all that from a simple "K." And that, in a nutshell, is the power of a text sent from a kid to a parent.
Facebook? Facebook is a different ball game. I don't want to be my kids' friend -- on Facebook or anywhere else. I want to be their parent.
I text with my kids because I want as many open channels of communication as I can have with them. But I've heard about too many kids who thrust a dagger in the heart of their futures by posting things on social media sites like Facebook that employers and college admissions officers don't find amusing: Kaplan Test Prep studies show that the percentage of college admissions officers who said they discovered something that negatively impacted an applicant's chances of getting into their schools has nearly tripled from 12 percent in 2011 to 35 percent in 2012. Offenses cited included using vulgarities in blogs or posting photos of themselves drinking alcohol on social media sites.
So this BYU study just published in the academic journal Cyberpsychology, Behavior and Social Networks gave me barely a a minute of pause.
I am unconvinced of the value of parent-teen bonding versus the potential harm of a misstep by a kid on social media. Learning to use social media safely and appropriately is a process. Some kids get it and some kids will learn it the hard way. For now, I will continue to monitor my kids' online gaming activities, perform spot Instagram checks just like the spot urine tests given athletes -- all the while teaching my kids about what is safe and appropriate "sharing" with real and virtual friends. The Internet is full of land mines and parents shouldn't need social media to talk to their children about it or anything else.
BEFORE YOU GO
PHOTO GALLERY
Social Media 101