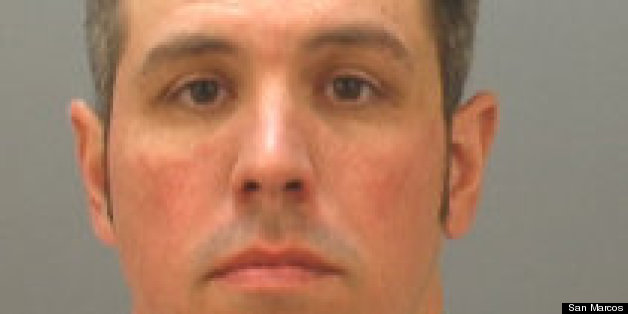 A police officer in Texas was jailed this week for knocking a woman's teeth out during an illegal arrest he made in late May.
James Angelo Palermo, 40, is charged with aggravated assault by a public servant for the May 29 incident in which he allegedly slammed a pedestrian against a car, the Austin American-Statesman reports.
A patrolman for the San Marcos Police Department, Palermo was conducting a traffic stop when he noticed a female pedestrian walking by. He wanted to know what she was doing and asked for identification, according to KVUE.
The Austin American-Statesman describes the encounter:
Palermo immediately moved toward her and she stepped back as he approached, the affidavit says. He grabbed her and pushed her against the back of the car he had stopped, then quickly spun his body and slammed her onto the concrete driveway between his patrol car and the stopped car, the affidavit says. He then handcuffed her and put her in his patrol car, saying she was under arrest for obstruction.
San Marcos Police Chief Howard Williams ordered an internal investigation on May 30, which eventually led to Palermo's arrest. In addition to the injuries to her teeth, the woman suffered a concussion during the arrest.
Palermo has been placed on administrative leave, KEYE TV reports.
BEFORE YOU GO
PHOTO GALLERY
Chicago Cops Behaving Badly