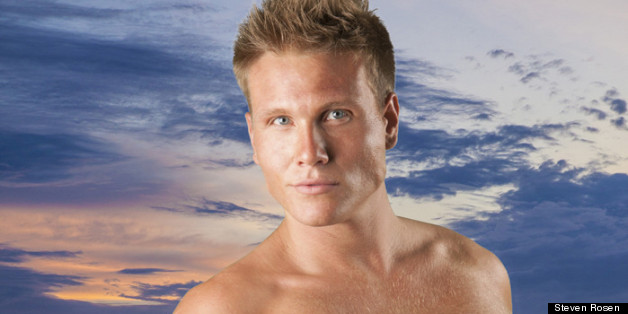 Putting a cheeky and occasionally gay spin on the world of daytime soaps, the new musical "Legacy Falls" has the added benefit of a leading man with real-world credentials.
The show, which premiered July 16 as part of the New York Musical Theatre Festival, takes a no-holds-barred (if facetious) approach to the popular television medium. Taking its title from the name of a fictional American program, "Legacy Falls" promises to "dish the dirt on soaps," skewering all the hirings, firings and behind-the-scenes catfights between co-stars, some of whom are hiding little secrets of their own.
"Legacy Falls" may seem like a winning format for a reality series, but according to composer-lyricist James Burn, daytime dramas provided ample source material "ideally suited" for musical theater, particularly in a show intended as a satire.
"The success of a musical comedy relies, in large part, on creating a world where it can seem natural and believable for people to burst into the song, so I was looking for that place," Burn, who also wrote the show's book, told The Huffington Post. "It's a land where you can still see divas and hunks roaming free in their natural habitat … there's an inherent theatricality there."
Check out photos from "Legacy Falls," then scroll down to keep reading:
PHOTO GALLERY
"Legacy Falls"
Still, when it came to putting "Legacy Falls" together for its premiere American run, Burn sought to add a much-needed "dose of the real world" that would help lend the show a extra dash of credibility. Enter Kevin Spirtas, best known to audiences as the villainous Dr. Craig Wesley on "Days of our Lives."
With a stage resume includes stints in "Silence! The Musical" and "Hairspray" as well as Broadway turns in "The Boy from Oz" and "A Chorus Line," Spirtas seems like the perfect choice for the character of Edward Trafford, a 30-year soap veteran who gets outed to his cast mates after falling in love with Daniel Morrison (Wilson Bridges) despite playing a straight man on the fictional series.
Though Trafford's sexuality poses ethical questions for the future of the show-within-a-show, Spirtas said his personal experiences in the world of soaps couldn't be more different.
"In my own life, I never led with being gay; I was always acting and always working," the 49-year-old out actor said. "In this day and age, I don't feel like [an actor's sexuality] is an issue anymore. At an earlier time I did – don't get me wrong – but at my age now, it's clear that the roles that I'm supposed to be doing are going to be doing regardless."
Of course, "Legacy Falls" is a comedy -- and as Burn points out, he and director/co-writer Ian Poitier never intended their show's gay subplot to be "issue-driven," but rather reflective of "the personal stories" of actors who work in the "ridiculously camp and glamorous world" of daytime soaps.
Spirtas shared those sentiments. "Edward has to come to terms with his truth…he finds that through this unexpected relationship, he can love himself and make the right choices in the next chapter of his life -- choices of freedom, choices of truth," he said, before quickly adding, "But there are happy endings all around."
"Legacy Falls" plays the New York Musical Theatre Festival on July 17, 19, 20 and 24. For more information, click here.