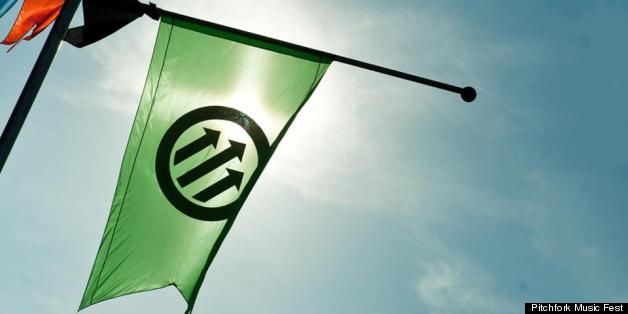 The Pitchfork Music Festival has grown by leaps and bounds, morphing from two days of rocking out with a local beer in hand to a sprawling three-day weekend that packs more than just music.
With the festival getting bigger each year, HuffPost Chicago has crafted a handy guide of tips, reminders and useful info to boost your festival mojo and help you have the best possible time at the best music event of the summer (stay tuned for critics' picks on the music).
An important thing to remember, unlike Lollapalooza and other fests, once you're in at Pitchfork, you stay there: No re-entry allowed. You can bring two sealed bottles of water but no other outside food or drinks; ditto for drugs, lounge chairs, camping equipment and recording devices.
The Pitchfork 2013 guide continues below
PHOTO GALLERY
Pitchfork S.O.S.
GETTING AROUND:
Short of being dropped off by a friend or relative (thanks mom!), biking and walking are indisputably the best ways to get to the festival.
Guarded bike parking is available at the Biker Village at the corner of Ashland and Warren, with local Logan Square shop Smart Bike Parts providing water (for bikers), air and chain lube for tires.
Nearby public transit (Ashland in particular) will be packed, so hoof it the extra few blocks to Damen to catch a different North/South bus. The Ashland/Lake Pink and Green Lines will be crowded but fast-moving, and if you're Loop-bound for a Red or Blue Line transfer, the trip downtown is less than 10 minutes.
Tired, sweaty fest-goers get nasty when it comes to cab poaching, but you can always try your luck with a reservation service like Uber. You can also snag a pedicab, which will run you roughly $15 depending on destination (and tip well, it's hard work). Roadiecab tells HuffPost Chicago they will offer $15 fares to and from the fest from Logan Square and Avondale.
Inside the actual fest, if you'll be using a wheelchair, motorized chair or hobbling on crutches, all access points are ADA, according to the fest. A nice festival employee can also help you find wheelchair-accessible viewing for the two main stages.
GATES:
The main gate is at Ashland between Washington Boulevard and Lake Street. To beat long lines, head to the smaller gate at the east end of Washington Boulevard near Ogden. Will Call opens at 1 p.m. Friday and 11 a.m. Saturday, but gates for the fest don't actually open at 3 p.m. Friday and noon on Saturday and Sunday.
FOOD:
This year, the festival says a full one-third of vendors will have menu items that are gluten-free and vegan. If you need special food or accommodations for a medical condition, be prepared with a doctor's note to show festival first aid staff.
The festival didn't release an official list of vendors this year, though they did confirm Goose Island beer, Big Delicious Planet (gluten-free), Chicago Diner (vegan and vegetarian) and Robinson's No.1 Ribs. Spots like Wishbone also confirmed their presence, as did Big Star -- for VIP only.
SHOPPING:
Depending on the size of your wares, a rental locker (which you can reserve online) is always an option if you can't bear to carry your new goods all day. The lockers measure 11" x 13 ½" x 18" and can be rented out for $15 each day or $40 for the entire weekend (the latter option allows you to stash your stuff overnight).
Flatstock
The annual event is an essential stop for art and design fans looking to update their walls with unique prints. Several vendors sell hard-to-find artwork from old tours and items that are otherwise out-of-print.

Most vendors will sell you a travel poster tube to protect your new print or hold your purchase until the end of the day for pickup so you don't have to navigate a crowd with it.

Crafts
Organized by Coterie, the craft fair has wares similar to those featured at Chicago summer street festivals like Renegade Craft Fair and Do Division: think hand-made jewelry, apparel, accessories, music-related home goods and paper products (though different from the stuff at Flatstock). Many accept Square and other credit card payments, but ATMs are on site. Shoppers must pay for their items at a centralized checkout and then return to the vendor for their item.

CHIRP Record Fair
Like its annual spring installation of the event, the CHIRP Record Fair at Pitchfork is the prime spot for scoring nicely-priced vinyl and releases with limited distribution.

Most of the labels with artist at the festival will be present, along with small Windy City labels like Addenda, Captcha, and Plus Tapes, and local sellers with great inventory (Shuga, Reckless).

Book Fort
Columbia College Chicago's Department of Creative Writing reprises its book fort, stocked with small press runs, outsider magazines and other experimentalist writing.
PACKING TIPS:
Since there's no re-entry, make sure you're stocked up on essentials like extra batteries for phones, cameras (nothing with a detachable lens or they'll turn you away), sunscreen and something for rain. An umbrella is a great option (so long as you don't use it in the crowd and poke someone's eye out/block their view), but a poncho is better since you can sit on it. If all else fails, grab a garbage bag and punch three holes in it. Bam: protection.
Other smart bring-alongs include your own toilet paper, wetnaps and even a bandanda or washcloth you can wet down.
BEFORE YOU GO
PHOTO GALLERY
The Pitchfork Music Festival 2013 Lineup