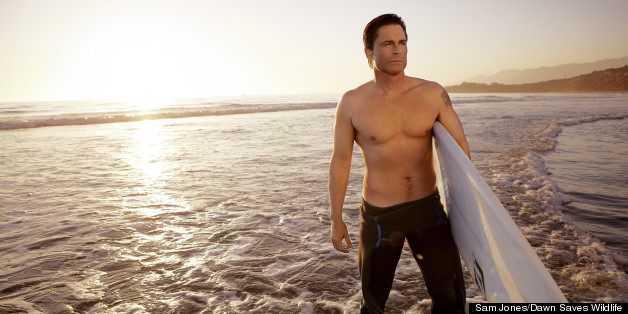 These days, our knowledge of celebrities too often originates with paparazzi images and snarky quotes by anonymous "insiders." After a while, it's easy to forget that stars are real people. That's why HuffPost Celebrity decided to launch its all-new #nofilter quick-fire question-and-answer series. Because how well do you know someone until they've shared their guiltiest pleasures?
First off, I could tell what Rob Lowe's guilty pleasure was as soon as he answered my phone call. "I'm eating New York pizza as we talk," he candidly revealed, "so forgive me if I sound like a mush-mouth." (Still, the "Parks and Recreation" star later confessed that he doesn't believe in guilty pleasures ... an opinion many people agree with).
The 49-year-old actor is teaming up with Dawn Saves Wildlife to produce a seven-webisode documentary series called "The Big Picture," which will give an inside look at how marine mammals are individually impacted by environmental hazards and human interaction. As an avid surfer and environmentalist, Lowe says marine wildlife "resonates very deeply" with him and holds a special place in his heart. Thus, he is working alongside Procter & Gamble's Dawn dishwashing brand to shine a light on those volunteers who bravely save the lives of animals each day.
Lowe gave us some insight into his new project while revealing some intimate secrets about his personal life for HuffPost Celebrity's #nofilter series.
What made you want to work with Dawn Saves Wildlife?
I love the ocean, I'm in it all the time –- I surf every free day I have, I fish, you know, I've always been connected to the water and to the envirornment. And I was really impressed with their program -- that is now 40 years old -- of animal rescue. The partnerships are so strong with International Bird Rescue and the Marine Mammal Center. They're just really leading the way in rescuing animals and it felt like a really good fit for somebody who cares about those things.
Obviously the environment is important to you. When did you become interested in environmental issues?
As a young actor, my first trip to NYC many many years ago, I was on Dick Clark's "$10,000 Pyramid" game show and won the final round and I donated it to an animal rescue charity. I was 15 then, so I guess it's been a part of my interests for a long long time.
And when did you first get into surfing?
I guess it's been about five years now. I didn't learn as a kid and I'm sort of glad because it's so addicting and I could see myself in Malibu, where I was as a teenager, and saying, "Hey, surf's up! I don't need to go audition for that 'Outsiders' movie. That competition is tough, I won't get it anyway." And that would not have been good.
What's the most exotic location you've ever surfed?
I've been lucky. I've surfed in Nicaragua, Panama, Indonesia, the north shore of Hawaii, in Mexico, so I think I'm probably going to go with some pretty remote islands in Indonesia.
Are you afraid of sharks or any other animals out there?
Well, there is a very notorious beach very close to where I surf called Surf Beach and two people have been killed over the past two years. Um, I don't go to that beach. I'm aware of it, I've seen sharks in the water –- I've seen a great white while surfing. And it's part of the ecosystem, you know, it's their home. I also am an avid skier and an avid heli-skier and it's like avalanches -– you try to be smart and you try to protect yourself. It's part of what's going to happen.
Would you ever direct a surfing movie/documentary or something like that?
I love documentaries, I'm obsessed with them. I spend all my time watching those documentaries exclusively on Apple TV, which is really my sole form of entertainment now when it comes to movies and television. I blow through the whole library of Apple's documentaries in about two weeks' time. So, [making one] might be something fun. But I'm also such an inveterate writer and storyteller, I think manufacturing my own stories out of whole cloth is probably still where my focus would be, but I certainly admire a good doc. I think a good doc almost could be more transporting than any straight movie.
What's the last song you downloaded?
The last song I downloaded was DJ Carnage, his new EDM mix and I can't think what the title is.
What movie could you watch over and over?
Jeez, it's a long list: "Shampoo," "Goodfellas," "Jerry Maguire," "The Godfather," "Apocalypse Now," I can go on and on, on that one.
What's your guiltiest pleasure?
First of all I have a philosophy on guilty pleasures. I really don't believe in them. I think the phrase "guilty pleasure" has done more to lower the bar of entertainment than anything that I can imagine. I think if it's guilty, then there's a good reason you're feeling guilty. And it probably means you shouldn't watch it. Like I'm not a "Sharkadoo," "Sharknado," whatever guy. I'm not into guilty pleasures and I'm not into hate-watching. Life is too short, watch good sh*t people, please for the love of all things holy.
What's the silliest thing you've ever lied about?
[After a long pause] Maybe my height on my driver's license.
You lied about that?
Because it's like, I'm 5-foot-11 and three-quarters, my favorite thing is that I won't let myself be 5-foot-11 … I need that extra three-quarters. It's like a little kid who goes I'm 6 and a half … just say 5-foot-11! There's no shame in it, but I want that three-quarters really, really badly because it almost gets me to 6 feet, and let's face it, that separates the men from the boys, as we all know.
So, did you write 6 feet on your driver's license?
I may have. I can neither confirm nor deny.
If you were on a reality show, what would it be called?
It would be called, "Kill Me Now, I'm On a Reality Show."
If you were on death row, what would your last meal be?
Oh, without a doubt, New York pepperoni pizza with mushrooms. Which means that I would have to commit my crime in New York City, clearly.
What shows are always on your DVR?
My DVR has "Football Night in America," "The Newsroom," "30 Rock," "Breaking Bad," "Mad Men," the usual suspects. Oh and "Workaholics," so I have something to watch with my sons. And "Game of Thrones" is amazing and addicting and I totally appreciate it with a caveat that that genre is not really in my wheelhouse, but if it were to be, nobody does it better than the people who make that show. That show is incredible.
Head over to DawnSavesWildlife.com to check out "The Big Picture."
BEFORE YOU GO
PHOTO GALLERY
They said WHAT? #nofilter