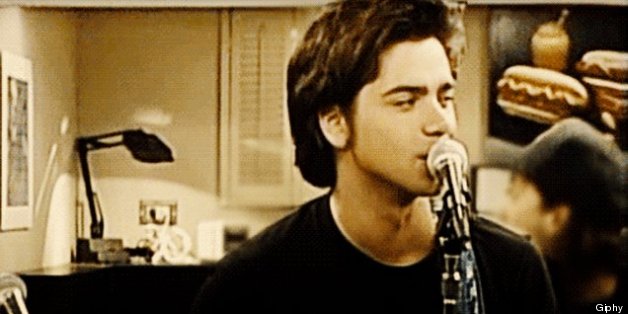 If at some point in your youth you watched (lived for?) "Full House," the saccharine late '80s-early '90s sitcom in which three single dudes raised three little girls, chances are you never quite got over Uncle Jesse. Long before John Stamos was making yogurt commercials, his character Jesse Katsopolis was winning hearts with his good looks, extreme coolness and of course, his rock n' roll.
So when it was announced that Uncle Jesse is reuniting with his band, The Rippers, on "Late Night with Jimmy Fallon" on July 19, there was, unsurprisingly, some swooning. We're not saying we're proud of it, we're just saying it happened.
Here are 13 things we hope Uncle Jesse will do Friday night:
1. Act unimpressed.
2. Tickle a small child in a non-creepy way -- while wearing suspenders. (Note: The suspenders make the non-creepy part more difficult.)
3. Express righteous indignation.
4. Bite a puppet ...
5. ... and once again almost show Uncle Joey who's boss.
6. Do the Sexy smile.
7. Sing the cheesy theme song, and still somehow look dreamy ...
8. Sing "Forever"...
9. ...but dressed like he was in the "music video"
10. ...or at lease wearing his unmistakable vest.
have to dig this vest out of storage - may need soon. J.K. pic.twitter.com/pnMum3jjKa

— Jesse Katsopolis (@jesseandtheripp) July 15, 2013
11. Sing it again with the remaining Beach Boys, because why not.
12. Say one more time that Lori Loughlin was the one who got away -- this time without mentioning her current husband's wealth. (Too far, Uncle Jesse, too far.)
13. Gaze into Jimmy Fallon's eyes and say,
BEFORE YOU GO
PHOTO GALLERY
"Full House" Cast: Where Are They Now After 25 Years?