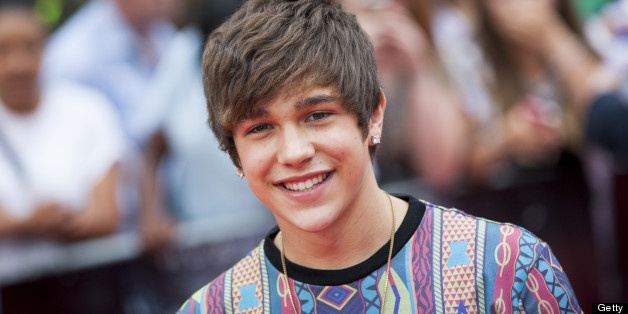 He's got perfectly floppy hair, a silky-smooth voice, an army of teen girls following his every move and a whole lotta swag.
No, we're not talking about Justin Bieber.
Meet Austin Mahone -- the 17-year-old singer who's making a name for himself this summer with a catchy hit single, a tour with the biggest pop-country star in the biz and a fan base ("Mahomies") that is spreading like wildfire.
The night before Austin performed to a sold-out crowd of 55,000 in New Jersey, we hung out with him at Frames Bowling Lounge in New York City, where he filled us in on what we can expect from his upcoming album, the best piece of advice T-Swift has given him and why you shouldn't be so quick to compare him to the Biebs.
What's the best part about touring with Taylor Swift?
It's been amazing. She's so talented and getting to go to these amazing cities and perform in front of 55,000 people -- the energy's just insane.
Has she given you any good advice?
She's told me to keep a good circle of people around me -- keep my friends close and always stay the kid that I was when I started.

People have called you "the next Justin Bieber." How does that make you feel?
You know, it's cool. I want people to give me a chance to show that I'm different. I'm not trying to copy him or take anything from him. I'm a person. My music is different and I'm just trying to do my own thing.

What was it like the first time you heard yourself on the radio? Where were you?
I was in Chicago leaving a radio show and I got in the car and I hopped in and I heard my voice. I was like, "Hey, what's up, it's Austin Mahone. You're listening to B96." And it was so weird, I didn't know what to do. It was strange.

At what moment did you realize that you had really "made it"?
Probably when I was at the Billboard Awards hanging out with Taylor and all those guys, and sitting next to Akon and just presenting with Kelly Rowland. I was like, "Man, this is just insane."
What's the craziest thing a Mahomie has ever done for you?
I've had a girl hop in my car with me one time. I was leaving a show and the doors were open and she got under my security and hopped in the car and we almost drove off with her inside the car. So that was pretty crazy.

Can you spill any details about your upcoming album?
We don't have a name for it yet. It's coming out sometime in the fall -- I can't tell you exactly when, but really, really soon. Basically, my album is going to have a lot of songs on there like "What About Love" -- like that kind of dance-feel -- and also some really good slow ballads. I'm really excited to put it out and I think my fans are really going to enjoy it.

What would be your dream collaboration?
Probably Chris Brown.

Who has inspired you growing up?
Probably my mom and my grandparents. They've taken such good care of me. Musically, I actually grew up listening to country music as a kid like George Strait, Alan Jackson... all those guys. So it was kind of weird crossing over from that to pop and R&B, but you know, I love Michael Jackson, Ne-Yo, Usher, R. Kelly, Drake, Boyz II Men.
How do you de-stress while you're on the road?
To be honest, I know this probably sounds corny or whatever because I'm a musician, but listening to music really helps me relax and calm down -- listening to my favorite songs. Also laughing and hanging out with my friends.
Check out some photos from the event, below.
BEFORE YOU GO
PHOTO GALLERY
Austin Mahone At Frames Bowling Lounge Photos