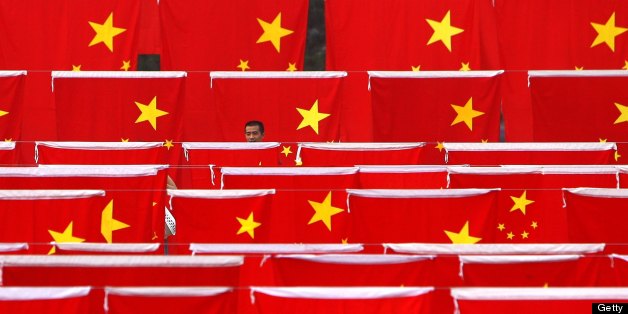 By Adam Jourdan
LONDON, July 18 (Reuters) - China will eventually overtake the United States as the global superpower but its rise is not making it more popular, according to a major global survey by Pew Research Center published on Thursday.
The survey, which canvassed the views of nearly 40,000 people in 39 countries, found a majority of respondents expected China, now the world's second biggest economy, to take top slot.
Slightly more than a third of respondents thought China was already the leading economic power, up from 20 percent in 2008. Over the same period the same figure for the United States dropped from 47 percent to 41 percent.
Even Americans are split about the future: nearly half said China would eventually overtake their country while the same proportion said it never would.
However, China's economic ascent seems to be no guarantee of making friends on the global stage.
Only half of respondents had a favourable view of China, compared to 63 percent for the United States, while far higher numbers said they saw the United States as a "partner". China's popularity has largely stalled since 2007.
Japan had by far the worst view of China: only 5 percent expressed a positive view of the country after territorial disputes increased tensions between the historic rivals.
Two top Chinese newspapers accused Japan on Thursday of dangerous policies that could threaten regional security after Tokyo warned Beijing not to expand gas exploration in disputed waters of the East China Sea.
However, China's investments in Latin America and sub-Saharan Africa seem to have had a positive effect. Views towards China are largely positive in both regions, although the United States still outscored its Asian rival in both areas overall.
SOFT POWER
China has the edge in the Middle East, where the popularity of the United States - a staunch ally of Israel - remains low, especially in Egypt, Jordan and the Palestinian territories.
Soft power is a weak point for China, with little more than a third of respondents saying it respected its citizens' personal liberties, half the number seen for the United States.
In Latin America and Africa, China enjoys some soft power success through science and technology, with more than two thirds of respondents seeing this aspect in a favourable light.
But China still scored substantially lower than the United States in areas linked to culture, business and the spreading of ideas - all important areas for supporting U.S. popularity globally, especially among young people.
"Across all of these questions about American culture and ideas, young people regularly express more positive attitudes," said the report.
The military might of both countries is a cause for concern. Tensions in the South and East China seas has sparked anxiety in Japan, South Korea and the Philippines, while half or more of respondents in 31 countries disapproved of U.S. drone attacks.
The two global powers also have an increasingly negative view of each other.
The proportion of Americans with a positive view of China fell to 37 percent this year from 51 percent two years ago. The story is the same in China, where U.S. ratings plummeted from 58 percent in 2010 to 40 percent today. (Editing by Gareth Jones)
BEFORE YOU GO
PHOTO GALLERY
China National People's Congress