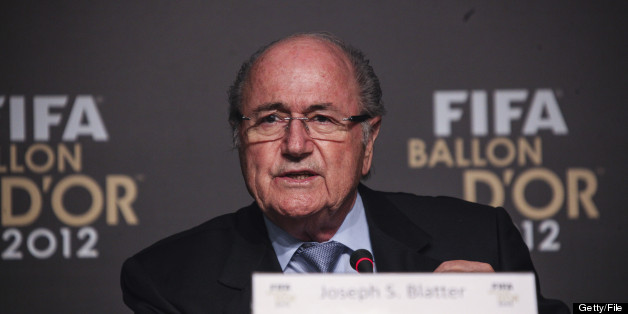 You probably won't catch FIFA President Sepp Blatter with a picket sign in his hand.
Blatter said Wednesday it may have been a mistake to allow Brazil to host the 2014 World Cup, arguing that the Brazilian government needs to clamp down on public protests that have continued for a month, the Associated Press reports.
Some one million people took to the streets during the Confederation Cup, according to Bloomberg -- partly to protest the government for spending some $13.5 billion of government money on the World Cup while the country's public services and infrastructure languish.
"If this happens again we have to question whether we made the wrong decision awarding the hosting rights," Blatter said, according to Bloomberg News. "The government is now aware that next year the World Cup shouldn't be disturbed."
The largest public protests Brazil has seen in decades originally erupted over outrage at rising bus fares in São Paulo. Since then, protesters have expanded their grievances, pushing for accountability for corruption, greater investment in public infrastructure and repeatedly questioning the logic behind spending billions on hosting the World Cup and the 2016 Olympics.
The Brazilian government has had trouble attracting private capital to infrastructure investment, leaving the government to foot the bill for construction and renovation of stadiums for the World Cup and the Olympics, according to the Economist. Brazil's quality of infrastructure ranks just 104th out of 142 countries surveyed by the World Economic Forum.
Caught between the FIFA and the protesters, Brazilian Sports ministry defended itself by pointing out that Brazil is a democracy, and it's not up to the head of the FIFA to dictate when the country's citizens can protest.
"The success of the Confederations Cup proves Brazil is the correct choice to host the World Cup," Brazil's sports ministry said in a statement, according to Bloomberg. "As for the demonstrations, Brazil is a democratic country that guarantees its citizens full freedom of expression."

It's not the first time tensions have arisen over Brazil's hosting of the mega-event.
FIFA has scolded Brazil several times in the past for failing to meet construction and renovation deadlines for the 12 stadiums that will host World Cup games.
BEFORE YOU GO
PHOTO GALLERY
8 Reasons Brazilians Totally Count As Latino