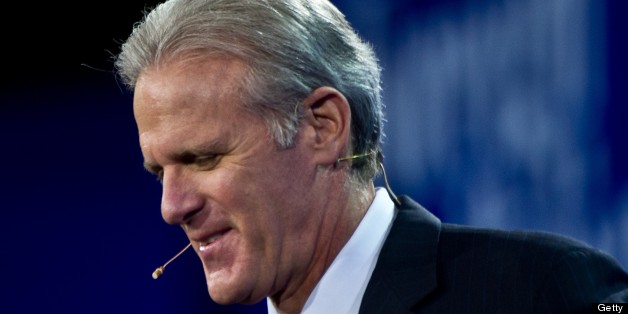 Michael Oren, Ambassador Of Israel, hosted an iftar dinner at his Washington D.C. home on a day sacred to both Jews and Muslims which both religions commemorate by fasting.
Though Jews and Muslims were fasting for different reasons -- the Jews in observance of the solemn holiday Tisha B'Av, and the Muslims to celebrate the holy month of Ramadan, Oren sent a strong message of interfaith and solidarity by choosing a day on which both Muslims and Jews could break the fast together while still observing their different traditions.
His remarks further emphasized the importance of coming together as he addressed his diverse group of guests, which included religious leaders, government officials, diplomats, philanthropists, members of the media, and business leaders.
Good evening. Ramadan Kareem.

I'm delighted to welcome you to the Embassy of Israel's iftar. I will try to keep my remarks short, as standing in between food and hungry people for too long is just asking for a diplomatic crisis.

Hosting iftar in the United States on behalf of the Israeli government is a wonderful tradition that my wife Sally and I started back in 2011. One of my many privileges as Ambassador is to invite distinguished guests to dinners at my residence throughout the year.

But no event compares to iftar, and this year is no exception. Though, I must say, this year is exceptional.

This year is exceptional because tonight, Jews and Muslims all over the world are breaking fast. In just a short while, the annual Jewish fast day of Tisha B'Av -- the ninth day of the Hebrew month of Av -- will come to a close. Although Tisha B'Av is a twenty-five hour fast, this year my fast is slightly longer, but more on that later.

So here we are, Jews and Muslims, breaking fast together. I find this really interesting. I find it interesting that on this day, before we break bread together, Jews and Muslims commemorate two totally different religious events through the same act of fasting.

Tisha B'av is regarded as the saddest day in the Jewish calendar. On this date, we fast because we are mourning. We mourn the destruction of our first Temple in Jerusalem in 586 BCE by the Babylonians, which happened on the ninth day of Av. We mourn the destruction of our second Temple at the hands of the Romans, which also happened on the ninth of Av, in the year 70 of this era.

And if the destruction of our center of worship was not enough once or even twice, the list of tragedies that befell the Jewish people continues. On the ninth of Av, we were expelled from England in 1290 and from Spain, along with its Muslims, in 1492.

And for Muslims, the sacred month-long Ramadan fast is not a time for mourning, but rather an opportunity to reflect, to take stock, and to look within and find ways to self-improve.

I mentioned earlier that I'm in the waning minutes of a longer fast. This is not out of piety, I can assure you of that. You may not know this, but I returned to Washington only a few hours ago. I was in Jerusalem, where the clock is seven hours ahead. That means that when the fast began at sundown yesterday in Jerusalem, it was only one in the afternoon in Washington.

While over there, I met with Prime Minister Benjamin Netanyahu several times, and we had long discussions in preparing for the visit of Secretary of State John Kerry. We deeply appreciate the Secretary's efforts, and together we are committed to realizing the vision of two states for two peoples.

I don't have to tell you that the Middle East is going through profound turbulence and torment. Since our last iftar here, tens of thousands of people have been killed.

At times such as this, hope can be extinguished. And yet, here we are tonight, during the darkest of times, linked by bonds of history and faith, doing our part to rekindle hope.

Yes, Tisha B'Av commemorates a tragic day in the Jewish calendar, but the day is really one of hope. During the last few hours of the fast, we begin to ease the restrictions that we had been observing. We literally and figuratively rise from the floor and begin to transition back to our regular routines. And this gets to the core of Tisha B'Av and, for that mater, Ramadan -- We look to the future.

Our religions have survived and thrived because we are able to draw upon the lessons of yesterday to pioneer a better tomorrow. We are willing to turn inward and ask the uncomfortable and honest questions. What have we done wrong? How should we change?

We look to a time of spiritual completeness, to a time when we are better individuals who are contributing to better communities. It's true that the acts of mourning and reflecting both focus on the past -- on what what has already happened, on what we have already done. But it is only through our memory and our respect for the past that we are able to look forward.

As this day of fast draws to a close, let us take this opportunity to look forward to a time of tranquility, tolerance, and peace.

Kul sana wa inta tayeb.
Duke University Chaplain Imam Abdullah Antepli, Congressman Keith Ellison of Minnesota, and Special Representative to Muslim Communities Farah Pandith of the U.S. Department of State also addressed the gathering, speaking of the importance of interfaith and the potential for change in today's generation of young people.
Oren has served as Israel's ambassador for over four years, but will be stepping down this fall. He has not yet revealed what comes next, but said that he would continue serving the people of Israel.
This is the third iftar hosted by Ambassador Oren and his wife Sally, a tradition that began in 2011.
BEFORE YOU GO
PHOTO GALLERY
Jerusalem Holy Sites