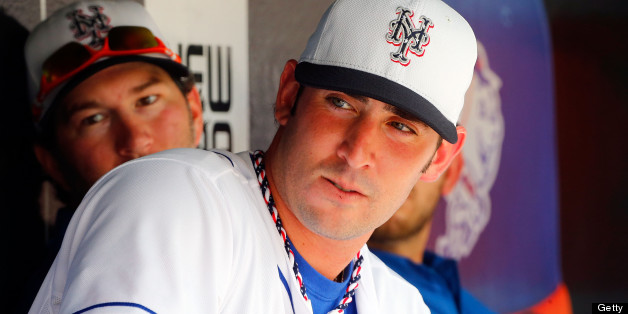 New York Mets pitcher Matt Harvey says he strives to be more like superstar Yankees shortstop Derek Jeter, an athlete who is able to thrive on the field without losing himself in the media spotlight and forgetting about life off the field.
"That guy is the model," Harvey told Men's Journal in a recent interview about his new life in New York City and his passion for baseball. "I mean, first off, let's just look at the women he's dated. Obviously, he goes out -- he's meeting these girls somewhere -- but you never hear about it. That's where I want to be."
Some initially believed that the rookie, who lives in Manhattan's East Village, had been referring to Jeter's star-studded dating record. The New York Post speculated Wednesday that Harvey perhaps "envies Jeter's prowess with beautiful women."
On Thursday, the 24-year-old Harvey, dubbed "baseball's hottest young pitcher," clarified what he meant, insisting that his comment had been taken out of context.
"I said I wanted to be like Jeter in good ways. I used an example of how he probably goes out, but you never hear anything bad," Harvey told the New York Daily News. "I love watching Jeter because he played hard every single night and was a winner. When I moved to NYC, the respect for him grew, because I realized what the media was like. And for him, he always stayed out of the bad media, making him a leader on and off the field."
If Jeter tends to shy away from the spotlight, Harvey isn't quite so camera-shy, notes the N.Y. Post.
Harvey, who was frank in a recent Men's Journal interview about the finer things he wants in his life (including a fancy New York City apartment, cocktails and a closet that would get him on a best-dressed list), recently made headlines for riding with girlfriend and Sports Illustrated swimsuit model Anne Vyalitsyna in the All-Star Parade and for posing nude for ESPN's recent Body Issue.
BEFORE YOU GO
PHOTO GALLERY
2013 MLB Season Highlights