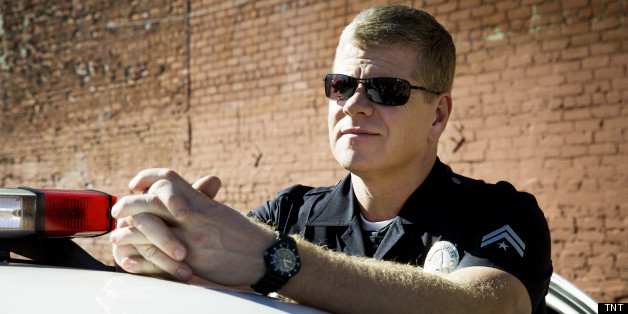 Some will argue that TNT's "Southland" never got the critical love it deserved. After being saved by the network when NBC axed it after just one season, the gritty cop drama went on to run five total seasons filled with action, suspense, betrayal, addiction and death.
The series was never on the shortlist for awards, be it the Emmys (their only two nominations and wins were for stunt coordination), the SAG Awards (only two nominations, again for stunt work) or the Golden Globes (nada), but the show's final season proved to be its most powerful, garnering the series a much-deserved Peabody Award.
Today, the show was snubbed by the 2013 Emmy nominations -- and it was a big one: no nomination for Michael Cudlitz, who played Officer John Cooper, the veteran cop who struggled with addiction, daddy issues, anger management on the job and his sexuality.
Prior to "Southland," Cudlitz worked pretty consistently with memorable parts in movies (I just caught "Mighty Ducks 3" on TV and couldn't help but laugh when he popped up as a high school jock) and guest stints on TV shows (remember Big Mike, "Lost" fans?), but was most recognizable from HBO's award-winning miniseries "Band of Brothers."
On "Southland" -- which was always presented as an ensemble show, with Cudlitz, Ben McKenzie, Regina King and Shawn Hatosy starring -- Cudlitz was given the chance to show his true acting range and to develop the character's many fatal flaws over five seasons.
We saw Cooper go through several boots to train and new partners to keep in check; we discovered that he was gay over time, without him having to wear a sign around his neck announcing it; we watched him struggle with addiction and how it affected his life and his job; and, ultimately, we saw his demise on the show's heartbreaking series finale.
Fans were understandably upset when TNT announced it was canceling the series, especially after the somewhat ambiguous final scene, but it was truly the only way for the show and the character to go out: with a bang.
Cudlitz played all of this with a subtlety that's rare on TV dramas these days. It was an award-worthy final season for a character that audiences had grown to love and accept and laugh with, despite his many flaws. But the way most awards shows work, and the Emmys specifically, if a show or a star hasn't been nominated by its fifth season on the air, voters are not going to suddenly take notice -- no matter how much it's deserved.
And so it ends. Just like that.
Tell us: Do you think Michael Cudlitz got snubbed? Did "Southland" deserve more awards love for the final season?
PHOTO GALLERY
Emmy Nominations 2013
BEFORE YOU GO