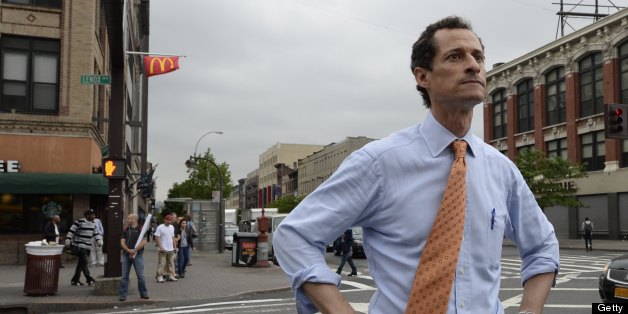 Another poll in New York City confirms a wide open mayoral race. Two more polls show majority support for the provisions of immigration reform legislation. And PPP jumps the Sharknado. This is the HuffPost Pollster update for Thursday, July 18, 2013.
NEW YORK TIMES/SIENA SHOWS QUINN LEADING IN NYC - On Wednesday, the New York Times published results of a new survey of 610 registered Democrats in New York City conducted by the Siena College Research Institute: "The poll found that among Democratic voters, Christine C. Quinn, the City Council speaker, is leading the field, with support from 27 percent, followed by Anthony D. Weiner, a former congressman, who was supported by 18 percent. Bill de Blasio, the public advocate, and William C. Thompson Jr., a former comptroller, were each backed by 11 percent of Democratic voters, while John C. Liu, the current comptroller, had support from 7 percent." [NYTimes]
Siena didn't poll on voters' choice for comptroller - Siena release: "A clear majority of voters, including a strong majority of Democrats, say both Weiner and former Governor Eliot Spitzer deserve another chance at elected office despite their past behavior" However, among Democrats, the poll found just 24 percent reporting a favorable impression of Weiner, and just 30 percent reporting a favorable rating of Spitzer. Weiner and Spitzer's positive ratings were far lower than on other recent polls because the New York Times' standard favorable rating question offers "undecided" as an option. Roughly a quarter of reported an "undecided" impression of Weiner (24 percent) and Spitzer (26 percent). A third or more were unfavorable (36 percent for Weiner, 33 percent for Spitzer). [Siena release and crosstabs]
Why no comptroller question? Via Twitter, the New York Times' Michael Barbaro explains: "NYT careful about horse-race polling, which can be misleading in early phases of a race - often a measure of name [recognition]...In NYC, what's most interesting & revealing at this point is mood of electorate, their likes/dislikes. Horse race will keep shifting." [@MikieBarb here and here]
Better result for Quinn than other recent polls - A survey conducted over nearly identical dates by Quinnipiac University had similar results, except it showed Quinn with slightly less support (22 percent) and Weiner with more (25 percent). Two polls in June by Quinnipiac and Marist College also found Quinn with just 19 and 21 percent support respectively. Some of these difference may be ordinary random sampling error. The Pollster chart, which uses a local regression to plot trend lines that smooth out random variation, currently shows an exact tie -- 21.7 percent each -- for both Quinn and Weiner. [Quinnipiac, Pollster]
Comparing the demographics of the polls - The three most prominent New York City polls are produced by academic polling organizations -- Marist College, Siena College and Quinnipiac University -- that use very similar methodologies. All use live interviewers to call samples of both landline and mobile telephones. All use samples of randomly generated numbers to reach all working telephones and all begin by interviewing all adults and weighting them to match Census demographics, then report their results among registered Democrats. For now, only the Marist poll has also provided results for likely voters using a "probability turnout model." Using data published or provided directly by each of the pollsters, the Huffington Post assembled the table below showing the demographic composition of their most recent polls. By and large, their samples of registered Democrats are demographically similar, especially taking random sampling error into account.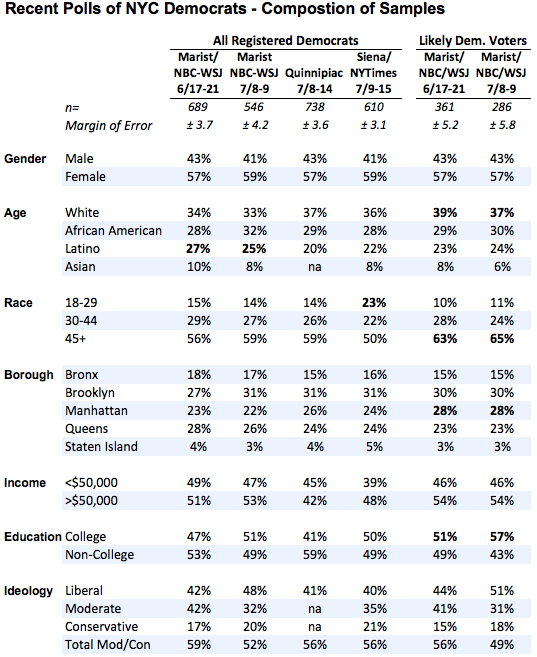 Some differences worth noting - The Quinnipiac and Siena polls include slightly more white voters in the samples of registered Democrats than the most recent Marist polls, while Marist has included slightly more Latino or Hispanic voters. The Democrats on today's Siena poll had more 18-to--29-year-olds (23 percent) than the other polls (14 to 15 percent). These differences alone, however, would not explain the difference in the Weiner and Quinn percentages on the recent polls by Siena, Marist and Quinnipac. Note also that Marist's likely voter model produces a sample that is slightly older, better educated and white than all registered Democrats. As other pollsters shift to a "likely voter" universe, their samples will likely show similar shifts.
POLL SHOWS MCAULIFFE SLIGHTLY AHEAD - Quinnipiac: "A yawning gender gap in the Virginia governor's race leaves Democrat Terry McAuliffe with a slight 43 - 39 percent lead over Republican State Attorney General Ken Cuccinelli, according to a Quinnipiac University poll released today.....McAuliffe has a 30 - 19 favorability rating, with 50 percent of voters saying they don't know enough about him to form an opinion. Virginia voters give Cuccinelli a split 31 - 30 percent favorability rating, with 36 percent offering no opinion. Voters approve 47 - 34 percent of the job Cuccinelli is doing as state attorney general. Since May 16, McAuliffe's net favorability has improved 6 percentage points while Cuccinelli's net favorability has dropped 6 points....The controversy surrounding Gov. Bob McDonnell will not affect their vote for governor, 70 percent say, while 14 percent say it makes them less likely to vote for Cuccinelli and 10 percent say it would make them more likely to vote for him." [Quinnipiac]
Little movement in the race - Results on the Virginia race vary considerably by pollster, but show little evidence of a consistent trend. Quinnipiac's latest numbers are nearly unchanged from May. During the same timeframe, Democratic firm PPP has twice found McAuliffe 4 or 5 points ahead, and Roanoke twice found Cuccinelli 5 or 6 points ahead, with a greater number of undecideds. Pollster's average of publicly available polling puts McAuliffe at 43 percent and Cuccinelli at 38 percent, similar to where they stood in November 2012. [Pollster chart]
A MAJORITY OF AMERICANS SUPPORT IMMIGRATION REFORM - Scott Clement and Sean Sullivan: "A big majority of Americans supports a Senate-approved surge of manpower and fencing along the U.S. Mexico border, according to a new Washington Post-ABC News poll. The second major component of the Senate bill also wins majority support. Some 55 percent support a "pathway to citizenship" for undocumented immigrants, nearly identical to three recent Post-ABC polls asking the same question about "illegal immigrants."...Support for a path to citizenship also ranges widely across pollsters and question wording. While most polls have found majority support for the idea, the public seems more inclined to support the idea when questions specify multiple conditions under which a legal status can be achieved. This may indicate that the public sees value in requiring undocumented immigrants to go through a rigorous process before gaining a route to citizenship." [WaPost]
Concerns about cost - Gary Langer: "When the cost isn't mentioned, 64 percent in a new ABC News/Washington Post poll support adding 20,000 border control agents and 700 miles of fence along the U.S. border with Mexico. Given the $46 billion price tag, however, support declines to 53 percent....When the price of increased border security is not mentioned, 84 percent of Republicans and 78 percent of conservatives support it, compared with 56 percent of Democrats and 47 percent of liberals. If the price tag in the Senate bill is included, support for stricter border control slips by similar amounts across partisan and ideological groups. Among other groups, some of the sharpest drops in support given the $46 billion cost are among younger, lower-income and less-educated adults, and nonwhites." [ABC]
Similar results from a second poll - Shane Goldmacher: "A strong majority of Americans, 59 percent, said they would like to see the House either pass the Senate's immigration bill as is or pass a version with even tougher border-control measures, according to the latest United Technologies/National Journal Congressional Connection Poll. In contrast, only one in five voters said they prefer that the House pass no immigration legislation at all, and only 13 percent said they want the House to strip the path to citizenship from the Senate's bill. [National Journal]
ANNALS OF POLLING FICTIONAL ISSUES PPP's recent survey of North Carolina voters finds that only 11 percent of the state's voters would support "$50 million of federal aid for California to recover from the Sharknado"; 55 percent oppose. Nowhere does the question (or the release) note that "the Sharknado" is fiction. [PPP]
THURSDAY'S 'OUTLIERS' - Links to more news at the intersection of polling, politics and political data:
-Satisfaction with the way things are going in the United States is "inching back up." [Gallup]
-Suffolk finds John Connolly and Martin Walsh leading a Boston mayoral poll. [Suffolk]
-Sean Trende says Democrats have benefited from increasing racial diversity but are "paying it back with an increasingly poor showing among whites;" Nate Cohn says the trend is real but exaggerated by a statistical measure. [Sabato's Crystal Ball, The New Republic]
-Democratic pollster Jonathan Robinson defends PPP's random respondent deletion method [@jon_m_rob here and here]
-Washington Post polling director Jon Cohen is named Vice President-Research of the Pew Research Center. [Pew Research]
-The Pew Global Attitudes Project launches an interactive map and charts to explore public opinion abroad. [Pew Research]
-John Edwards remains hugely unpopular in his home state. [PPP]
-Data scientist Pete Warden explains why you should never trust a data scientist. [Pete Warden via The Monkey Cage]
-London academics create a mathematical model to predict riots and help prevent escalation. [Flowing Data]
POLLSTER UPDATE VIA EMAIL! - You can receive this daily update every weekday via email! Just enter your email address in the box on the upper right corner of this page, and click "sign up." That's all there is to it (and you can unsubscribe anytime).