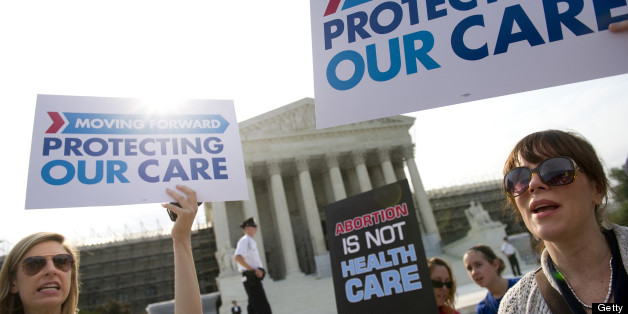 Unease around Obamacare appears to be increasing among small business owners, according to a recent survey from the U.S. Chamber of Commerce.
The conservative-leaning business lobby's survey had especially bad news for small business hiring. Half of small business owners polled indicated they would either cut employee hours or employ fewer full-time workers to avoid Obamacare's requirement that employees working over 30 hours a week receive employer-provided health insurance, according to the survey. Another 24 percent said they would curb hiring plans to avoid the employer mandate, since it applies only to companies with 50 or more full-time employees.
Almost half of small businesses said they were concerned about the law in general, up from 42 percent in January.
The survey, which was conducted from June 21 to July 8, probably does not reflect how small business sentiment may have changed since the Obama administration delayed implementation of the employer mandate by one year. That decision, which was announced on July 2, means that companies with less than 50 employees don't have to make any changes to their insurance plans until 2015.
Small business reactions after the delay was announced were mixed. Some business leaders indicated the move could ease anxieties over the health care law's requirements by allowing more time to implement them, while others said it had little impact on their plans at all.
Bob Mayer of Minneapolis-based construction company Wies Builders, for example, told Reuters that: "Our staffing plans are based completely on what we anticipate our growth in the marketplace to be, and not on a federal law that requires us to provide insurance."
To help absolve some of the misconceptions around the law, the Obama administration has begun a public awareness campaign to inform businesses and individuals about the law's benefits. A report from the Health and Human Services department estimates health care plans for small businesses with less than 50 employees could be 18 percent lower when purchased through the new insurance exchanges.
Still, the Chamber of Commerce survey is the second this week with seemingly discouraging news on Obamacare. The New York Federal Reserve's Empire State Manufacturing Survey indicates that 86.7 percent of businesses expect costs to rise as a result of the law. But Austin Goolsbee, a former White House economic adviser, called the survey's findings "speculative," adding that there was little historical data to support these fears. He also noted that some credit Obamacare for slowing the rise in health care costs over the past year.
(Hat tip: The Hill.)
BEFORE YOU GO
PHOTO GALLERY
Obamacare Haters