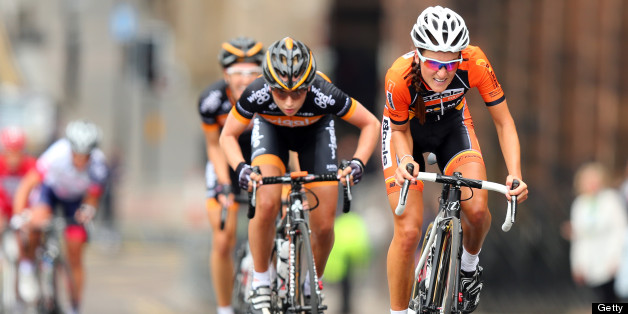 Lately any conversation about the Tour de France has focused on seven-time winner Lance Armstrong's indiscretions. Much less attention has been paid to a troubling aspect of the race itself: For the entirety of its century-long history, the tour has excluded women from competition.
That may not be the case much longer, thanks to American cyclist Kathryn Bertine, who launched a petition on Change.org last week requesting that Christian Prudhomme, the Tour de France director, allow women to have their own race.
A female version of the race -- the "Tour Feminin" -- was attempted in the 1980s, but as Bertine's petition notes, "it lacked parity, media coverage, and sponsorship" and was disbanded. NPR reports that the Tour de France Feminin also failed due to a lack of adequate sponsorship and a lawsuit brought on by the men's race for copyright infringement. Now, Bertine, along with four other accomplished female athletes (Emma Pooley, Marianne Vos and Chrissie Wellington), specifically request a "professional field running in conjunction with the men's event, at the same time, over the same distances, on the same days, with modifications in start/finish times so neither gender's race interferes with the other."
The petition has received close to 43,000 signatures in less than a week, and according to USA Today, USA Cycling addressed the possibility of relaunching a parallel female event, stating that such a race would be a "great platform" for female cyclists. However, the organization also said that it would be hard to overcome "major logistical, financial and broadcasting challenges and ramifications in having a women's race parallel the men's event."
This year's Tour de France marks the 100th anniversary of what is considered the world's most prestigious bicycle race. Entrants hail from an average of 30 countries, and the event attracts 3.5 billion TV viewers from 190 countries, making it a worldwide phenomenon -- and the message that women are not welcome a global one.
Bertine told USA Today, "Everybody's saying the Tour de France is turning 100, but all female cyclists are saying that the Men's Tour de France is turning 100 and we still haven't been invited yet."
Click here to sign the petition and show your support for female professional cyclists' fight for equality.
BEFORE YOU GO
PHOTO GALLERY
21 Photos That Showcase Women's Athleticism