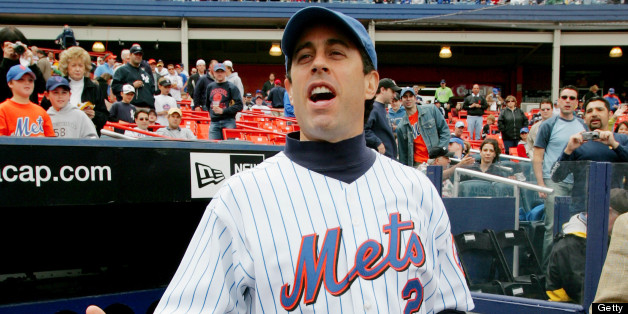 Jerry Seinfeld's feelings for New York Mets fans are real, and he thinks some may be less than spectacular.
The legendary comedian and avid Mets fan had a bone to pick with fans that attended the MLB All-Star Game at Citi Field earlier this week.
Seinfeld, an occasional caller to WFAN Sports Radio in New York, recently phoned the station to passionately discuss his discontent with the fan behavior at the Midsummer Classic during this year's player introductions.
"This is one of the lowest moments of my lifetime of Mets fandom, when the Citi Field crowd was booing [players] that they see as rivals to their Mets team," Seinfeld told late-night host Steve Somers, via CBS New York. "And I'm standing there, I was in shock. I was embarrassed. I thought it was horrible manners."
Seinfeld didn't stop there.
"These are the best players, in the game you love, that have come here to put on a show for you, and we're booing them like 5-year-olds, as if there's some sort of real animosity," he said. "The American League is not the Taliban."
Seinfeld's connection with the Mets' faithful runs deep. In 2010, he sat alongside Keith Hernandez to call four innings of a game against the Detroit Tigers.
"I don't think there's anything more fun than being a Mets fan," Seinfeld confessed during the broadcast. "They have two world championships, but they're two of the greatest, most exciting ones that any team can have."
BEFORE YOU GO
PHOTO GALLERY
PHOTOS: 2013 All-Star Game