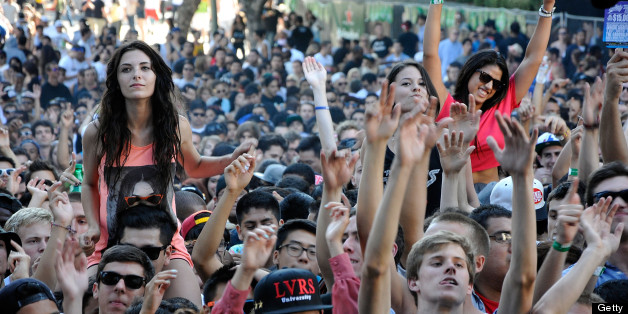 Mad Decent's Block Party tour is a curious thing -- an amalgam of music festival, blacktop hangout and street fair, Diplo's traveling circus of trend-setting musical acts has riled up crowds since 2008.
It's this year's Block Party, however, which is sure to be the biggest. Supported by genre standouts like Danny Brown, Riff Raff and Flosstradamus (as well as dominant crossover acts like Diplo's Major Lazer and Billboard-topper Baauer), the 2013 incarnation of the event has mushroomed to the point that it's no longer free. It kicks off Friday in Calgary and will run through mid-September, spanning sold-out dates in Philadelphia and Brooklyn along the way.
"I've never been to a Mad Decent Block Party, so I don't know what to expect," Brown told The Huffington Post. "Diplo is the homie! That's why he asked me to do it, and I said, 'Hell yeah, let's go.'"
Riff Raff offered a similarly charged up summation: "I don't even know if I'm headlining some, all of them or whatever. It's time to start treating everything like it's a headlining gig, regardless of whatever part I'm playing in it." (He won't be headlining all of them, Block Party stops feature different artists. Riff Raff will be performing at the tour's Toronto, Philadelphia, Washington, D.C., Ft. Lauderdale, Atlanta and Los Angeles stops.)
"Over the last few months, things have really changed in my life," the rapper continued. "Things are getting bigger and bigger and bigger to the point where everyone is expecting so much more from me, and I'm just learning how to coincide with that and also deliver bigger and better each time."
The party is also notable for mixing hip-hop acts with dance music troublemakers. Brown and Riff Raff, for example, will play alongside the likes of RL Grime and Diplo himself, making for an intense atmosphere similar to the one that plays out at a larger festival's smaller stage. It's that distilled, well-curated line-up intensity on which what Diplo's Mad Decent record label has cut its teeth.
"A lot more kids come to a rap show than a dance show, when you do a dance show you just attract more party people," Brown said. "[Touring with Baauer, for example] went great -- It's fun, it's almost more fun than doing a rap show. I'd rather do that."
In an interview with The Huffington Post about last year's tour, Diplo said the idea was pretty simple. "There's nothing more pure than the neighborhood getting together and feeling something. It's started in Philly with just $10 dollars and my home speakers turned outside. Then it grew to 1,000 kids, then 4,000, then 8,000 then more cities. And yes, it feels like it still belongs to the neighborhood."
The Mad Decent Block Party line-up is available below. Tour dates and ticket information can be found on the festival's website.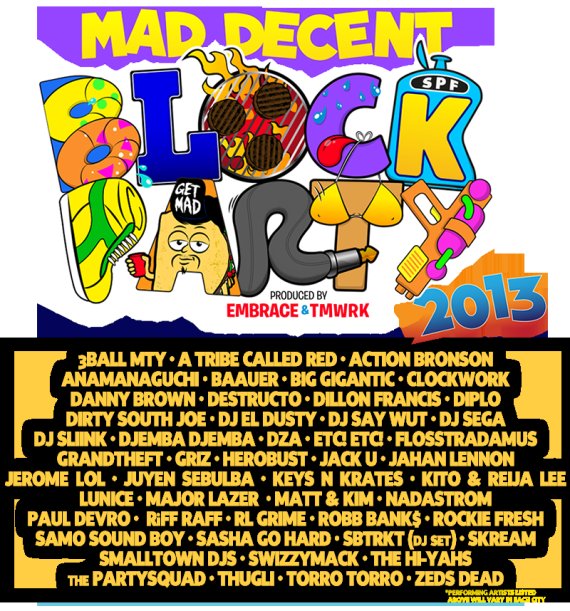 BEFORE YOU GO