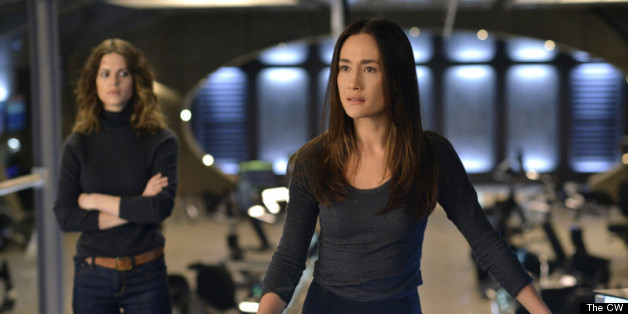 San Diego Comic-Con 2013 is playing host to the final "Nikita" panel, featuring stars Maggie Q, Lyndsy Fonseca, Shane West, Aaron Stanford, Melinda Clarke, Noah Bean and creator Craig Silverstein.
Follow along with our liveblog below for updates direct from Comic-Con.
07/19/2013 3:30 PM EDT
That's a wrap! Thanks for following along.
07/19/2013 3:29 PM EDT
Favorite Episodes
Noah: Dark Matter ... I thought it was a great episode. It was nice to be in it, and I can't believe I'm still alive. Usually I die in every show. I'm shocked that I'm still here.
Craig: The reason you survived so long -- one of the first lines you had to say was "these guys are like the dark matter in the universe, they fill up empty spaces" and we didn't think any actor could pull it off, but you did, you came in and nailed it.
Aaron: Shadow Walker. I had a lot to do there, it was tons of fun.
Lyndsy: Alexandra -- that was the moment she said "I am Alexandra Udinov," it has a cool power and when I said it, everything made sense for me.
Shane: The finale of Season 2, being able to see the relationship between Percy and Nikita come to an end.
Maggie: When Albert Kim wrote "Wrath," I called him after I read it and said "I really need you to be my friend on this episode, I don't know if I can do this without you." It was such a hard episode and it was so emotional, but so great.
07/19/2013 3:23 PM EDT
Filming THAT shower scene
Maggie: We both had to be in nude underwear. He looked like a Ken doll -- not because he has no penis! But he was wearing those tight bike shorts that were skin colored, and I came in and said "eeeeew!" And then they turned the shower on and when they got wet, they went TOTALLY see-through.
07/19/2013 3:19 PM EDT
Favorite moments off-screen?
Aaron: We're all on our phones all the time.
Lyndsy: One thing about the behind the scenes on "Nikita" is all the dogs.
Maggie: We're all dog freaks and Lyndsy and I will pull out pictures of dogs all day.
07/19/2013 3:18 PM EDT
Best/most emotional memories from the series
Shane: The end of Season 1, for Michael, quitting Division, giving it up for the love he had for Nikita and showing up in the lair and being vulnerable ... that was a moment that was very passionate and exciting and led to what happened to the next couple of seasons.
Melinda: She got her feelings hurt a little in Season 2. I had my own little backstory when it came to Percy and Amanda. He was the one person who could get her where it hurt -- he called her a lapdog and she had tears from that.
07/19/2013 3:15 PM EDT
Next projects
Shane is writing a show that is related to the comic he's been working on ("Big Bad Wolf")
Aaron: Never ask an actor what they're doing next -- it's the goblin that haunts our dreams.
07/19/2013 3:10 PM EDT
Percy flashbacks next season?
Craig: A Xander flashback ... I'd love to see it, yeah.
07/19/2013 3:09 PM EDT
Craig: Amanda is doing what she's doing because of what her father did to her. She's someone who doesn't exist -- there was no birth certificate [for Helen]. She's trying to define herself and that works into how she's trying to define Nikita, in taking her from anonymous to infamous.
07/19/2013 3:07 PM EDT
Lyndsy: Alex will try and take down human trafficking organizations, and the whole gang will be preoccupied with clearing Nikita's name, since she's now the most wanted woman in the world.
07/19/2013 3:06 PM EDT
Returning characters?
Craig: There's new faces for sure, and we want to get Cyrus (Isaiah Mustafa) back and Ramon from Season 2.
BEFORE YOU GO
PHOTO GALLERY
Comic-Con 2013: 20 TV Must-Sees