An original copy of Schindler's list -- not the movie, but the actual list of Jewish refugees that German businessman Oskar Schindler is credited with saving from the Nazis -- will be available on eBay Friday evening, the New York Post reports.
The document, which is 14 pages long and contains the names of the 801 "highly specialized munitions Jews laborers" Schindler saved, was typed out on April 18, 1945, right before the end of World War II, according to CNN. Schindler bribed officials to let him keep more than 1,000 workers and set up a factory in Czechoslovakia, according to History.com.
Update: The eBay auction of the list went live Friday afternoon: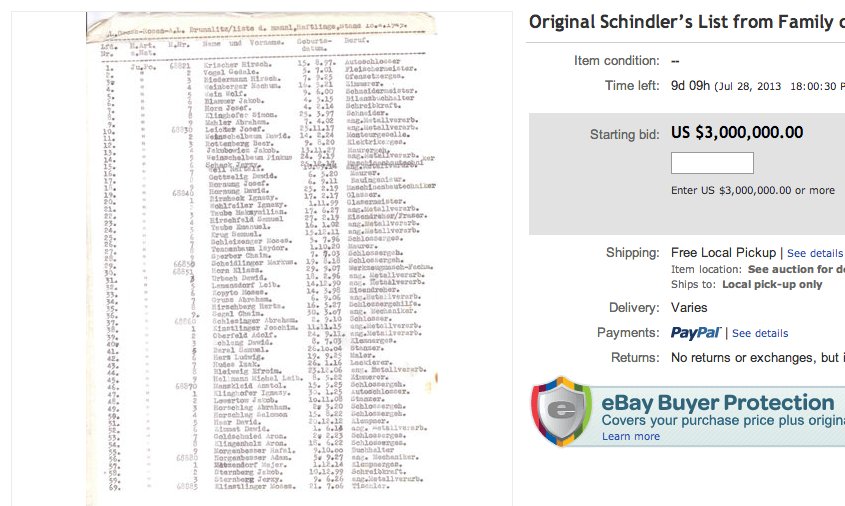 "It saved 801 men from the gas chambers," Olwen Pryke, a library curator who found one of the original lists, told the BBC. "It's an incredibly moving piece of history."
The story eventually became the inspiration of the 1993 movie directed by Steven Spielberg, "Schindler's List," which grossed $321 million worldwide and won best picture at the Academy Awards.
But the list was not created by Schindler. Instead, Mietek Pemper, a man who was born to a Jewish family in 1920 and was studying to become an accountant, made the list that helped save so many men from gas chambers, according to the Telegraph.
The list on sale is just one of four known to exist and will be sold at the reserve price of $3 million, according to the Post. The sellers hope to get as much as $5 million.
BEFORE YOU GO
PHOTO GALLERY
Craziest Things Ever Auctioned