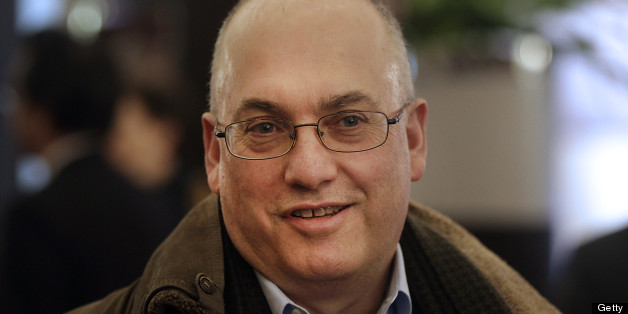 We may be on our way to not getting any criminal charges in yet another high-profile Wall Street case.
The Securities and Exchange Commission on Friday sued Steven A. Cohen, the billionaire founder of the $15 billion hedge fund SAC Capital. He is perhaps most famous for spending money on embarrassing stuff like grotesquely large houses, sharks in formaldehyde and the New York Mets. The SEC accused Cohen of failing to supervise his employees, whom the agency alleges used illegal inside information to make or save the hedge fund more than $275 million.
SAC Capital has 20 days to formally respond to the charges, but it wasted no time in responding to them informally. In a statement, an SAC spokesman declared the suit had "no merit" and vowed the hedge fund would fight.
The lawsuit seems like a fairly disappointing climax to a years-long probe. Many observers noted the fact that the Justice Department was not involved in this announcement, suggesting there may be no criminal charges coming against Cohen, even though the Justice Department has been aggressively prosecuting alleged inside traders relentlessly, including several former SAC employees.
The fact that this suit was filed on a summer Friday afternoon adds to the sense that the government is not interested in drawing a lot of attention to the case -- although maybe it learned its lesson from making too big a deal out of its suit against former Goldman Sachs banker Fabrice "Fabulous Fab" Tourre.
Still, the evidence in the complaint does not look good for Cohen. The SEC has instant-messaging transcripts that appear to show Cohen and some of his analysts talking, at least obliquely, about whether Matthew Martoma, a former SAC portfolio manager, has inside information about the results of an upcoming drug trial -- "black edge," in Martoma's alleged phrasing about the information.
Another section shows Cohen selling Dell shares moments after receiving emails and phone calls from some underlings who had allegedly been previously discussing inside information about Dell's upcoming profit announcement.
Maybe the government thought it would be too much of a stretch to convince a criminal jury that this sort of activity is evidence beyond a reasonable doubt of criminal insider trading. The SEC apparently thought it was also a stretch to describe this stuff as civil fraud -- it did not accuse Cohen of that.
Instead, the SEC has brought a relatively easy charge: a failure to say, "Say, these fellows seem to be doing some insider trading, perhaps I'd better do something to stop that." The SEC could still goof this up, like it does, but Cohen seems at real risk of losing his ability to manage other peoples' money -- although he would still be able to play with his own. That may be the worst he can expect.
BEFORE YOU GO
PHOTO GALLERY
10 Bankers Behind Bars