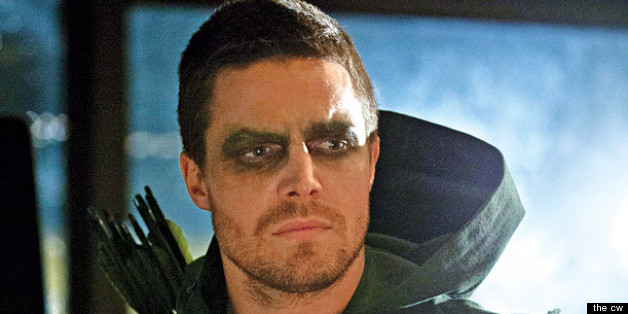 The cast and creators of The CW's "Arrow" visited San Diego Comic-Con to discuss what's ahead in Season 2, especially in the aftermath of Tommy's death and the Merlyn-made quake that devastated Starling City.
Stars Stephen Amell, Colton Haynes, David Ramsey, Katie Cassidy and Emily Bett Rickards were in attendance with executive producers Marc Guggenheim, Andrew Kreisberg and Greg Berlanti. Check out the liveblog below to find out what's ahead on the comic book hit.
You can also check out the Comic-Con sizzle reel below:
Here's more information on the two new DC characters we'll meet in Season 2:
Michael Jai White plays Ben Turner, a claw-wielding assassin better known as Bronze Tiger, who's well known to DC Comics fans as a member of both the League of Assassins and the Suicide Squad. On "Arrow," he'll form an unholy alliance with fan-favorite villain China White (played by Kelly Hu), another well-established character in the DC Comics universe.

Kevin Alejandro plays Sebastian Blood. Drawing inspiration from the iconic New Teen Titans nemesis Brother Blood, Sebastian is an alderman who rises to power in the wake of the earthquake that devastated Starling City in Arrow's first-season finale. Blood's "man-of-the-people" popularity instantly places him at odds with Oliver Queen, whose family he blames for the quake.
07/20/2013 9:06 PM EDT
That's a wrap from "Arrow," thanks for following along!
07/20/2013 9:06 PM EDT
When will Slade make the transition to Deathstroke, and will it be as a villain or antihero?
Guggenheim: You're going to want to watch Season 2 for sure. The opening minutes will give a big hint as to the second part of that question.
07/20/2013 9:04 PM EDT
How will Oliver evolve from The Hood to Green Arrow?
Amell; Nothing on the show happens overnight, everything happens in due time. The beginning of that journey begins with wanting to honor Tommy and be a different person from who Tommy thought Oliver was when he died. That's how things start.
07/20/2013 9:01 PM EDT
One word to describe the premiere script from each of the cast members
Epic; unexpected; trees; daring; me?
07/20/2013 9:00 PM EDT
Any new DC characters coming?
At least two new comics characters will appear in Season 2: New Teen Titans' Brother Blood, to be played by Kevin Alejandro.
And fans are already familiar with Deadshot, who will be part of the Suicide Squad alongside Bronze Tiger, who will be played by Michael Jai White. (More details on both above.)
07/20/2013 8:57 PM EDT
Barrowman: I would be more than happy to come back into this family fold. And if I'm being invited back, it's more than the 50th anniversary of 'Doctor Who's' ever done."
He points out he could return in flashbacks.
07/20/2013 8:56 PM EDT
The crowd goes nuts at the prospect of Malcolm coming back. Lazarus Pit, anyone?
07/20/2013 8:55 PM EDT
John found an original 1989 action figure from Argentina to give to Stephen on the convention floor.
"I'm sorry I stabbed you," Amell says in thanks.
07/20/2013 8:54 PM EDT
Returning faces from last year?
John Barrowman walks out wearing an "Arrow" shirt. "I've been on the floor, shopping."
07/20/2013 8:53 PM EDT
Colton on Roy's arc -- will he align with The Hood?
"Roy wants that to happen. In the comics it happens. In a way Season 2 is like an island to Roy like Season 1 was to Ollie. He needs to go through the gamut of things and realize he's not as tough as he thinks he is, he's got to be knocked down a few pegs before he can be helped."
BEFORE YOU GO