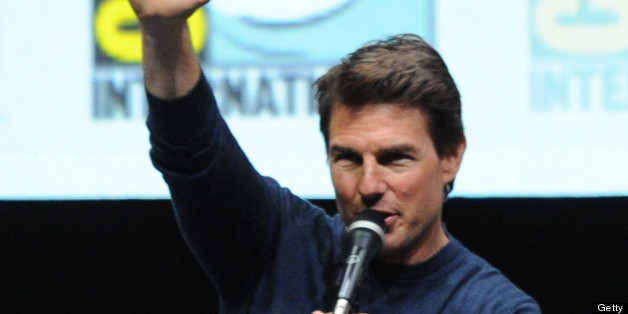 "Godzilla" stomped into Comic-Con on Saturday afternoon with director Gareth Edwards and stars Aaron Taylor-Johnson, Elizabeth Olsen and Bryan Cranston in tow to offer Hall H denizens another look at the iconic monster. Last year, Warner Bros. made a splash at Comic-Con by showing early footage of "Godzilla" before any of the stars were even cast in the film. (That's likely because the star, as always, is Godzilla himself.)
Speaking with HuffPost Entertainment before the "Godzilla" panel, Edwards said that his film was influenced by the Sept. 11 terrorist attacks as well as the Thailand tsumani. "We try to make this as realistic as we can, and we try to take it seriously," Edwards said.
"Godzilla," set for release on May 16, 2014, wasn't the only Warner Bros. film or Legendary Pictures production to feature during the panel, as Alfonso Cuaron's "Gravity," "The Seventh Son," "The LEGO Movie" and "Edge of Tomorrow" were also brought to San Diego. To support "Edge of Tomorrow," star Tom Cruise made a surprise appearance in Hall H, marking his first time at Comic-Con. Cruise celebrated by singing a few bars of "I Want To Know What Love Is," in a nod to his "Rock of Ages" character Stacee Jaxx; as it turned out, Warner Bros. panel moderator Chris Hardwick played Jaxx in a Los Angeles production of the musical, hence the reference. "Gravity" star Sandra Bullock came out to greet fans as well, but did not sing. (Video of Cruise's impromptu performance is below.)
Despite the starpower in Hall H, the big news was about fictional heroes. At the end of the pane, Warner Bros. announced that the "Man of Steel" sequel would be a team-up of Superman and Batman. "Man of Steel" star Henry Cavill would play Superman again, but no actor has been cast as Batman.
For a recap on the Warner Bros. panel, check out the liveblog below.
Additional reporting by Mike Ryan.
PHOTO GALLERY
Comic-Con 2013
07/20/2013 4:45 PM EDT
That's All, Folks
More on the "Man of Steel" sequel with Superman and Batman teaming up can be found here.
07/20/2013 4:29 PM EDT
The Full Statement On Batman/Superman
"I want you to remember my hand at your throat. I want you to remember the man who beat you."
07/20/2013 4:28 PM EDT
IT'S OFFICIAL
Warner Bros. unveils a Superman logo with the Batman logo behind it.
07/20/2013 4:27 PM EDT
Um
Harry Lennix is now on stage (he co-starred in "Man of Steel") to read something ...
07/20/2013 4:25 PM EDT
Supes On!
"It's official: We're going to make another Superman movie."
07/20/2013 4:24 PM EDT
Wait, That's Superman's Music
Zack Snyder just walked onto the Hall H dais.
07/20/2013 4:21 PM EDT
That's The End Of 'Edge Of Tomorrow'
... will Warner Bros. announce the Superman/Batman movie?
07/20/2013 4:18 PM EDT
We Would See This Movie
So hold on...Edge of Tomorrow is basically 50 First Dates with aliens, guns and Tom Cruise? #sdcc

— NextMovie (@NextMovie) 3 years ago
07/20/2013 4:16 PM EDT
Audience Questions For Tom Cruise
Things that were actually said: "My question is for Maverick."
07/20/2013 4:11 PM EDT
Still Happening
Now Tom Cruise is making Bill Paxton do Chet's lines from 'Weird Science.' The '80s, man. The '80s. #SDCC

— Adam B. Vary (@adambvary) 4 years ago