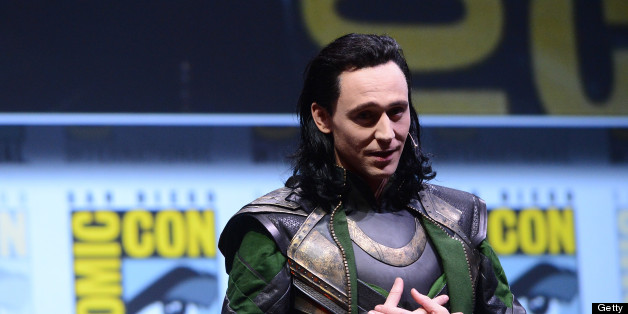 The Marvel Comic-Con panel, the main event in Hall H at the San Diego Convention Center, took place on Saturday night.
The big news: an appearance by Joss Whedon, who announced the title of the "Avengers" sequel. "The Avengers: Age of Ultron" will arrive in theaters in 2015; a brief teaser was shown with no new footage. Check out the film's logo below:

Other Marvel movies to factor into the panel included "Captain America: The Winter Soldier," "Thor: The Dark World" and "Guardians of the Galaxy."
As the panel started, Marvel Studios CEO Kevin Feige brought "Avengers" and "Thor" star Tom Hiddleston out to the stage in his full Loki regalia. Hiddleston mocked the crowd and Feige in character as the beloved villain, much to the delight of attendees. After that, new footage from "Thor: The Dark World" played for fans. (Check out reactions in the live blog below.)
In addition to "Thor: The Dark World," the cast of "Captain America: The Winter Soldier" made appearances, including Chris Evans, Scarlett Johansson, Samuel L. Jackson, Anthony Mackie and Sebastian Stan. According to Feige, the new "Captain America" film will be shared by Evans and Johansson (as Black Widow) "in a big way."
The footage from "Captain America: The Winter Soldier" was met with strong reviews from fans and journalists in Hall H; the clip offered a first look at Robert Redford, who co-stars as a S.H.I.E.L.D. head in the film.
Following the "Captain America" section, Feige announced that the cast of "Guardians of the Galaxy" was in San Diego, including stars Chris Pratt, Zoe Saldana and Benicio Del Toro. Pratt, who went through a high profile physical transformation for the film, said that Marvel told him he was "too fat" when they hired him for "Guardians." (Check out the live blog below for reactions to the "Guardians" footage.)
Marvel often has a big presence at Comic-Con. Last summer, the studio announced official plans for "Ant-Man" and "Guardians of the Galaxy."
Check out some Marvel concept art from the upcoming films below.
Additional reported by Mike Ryan.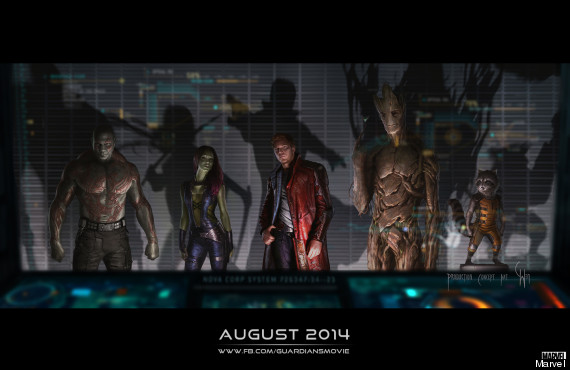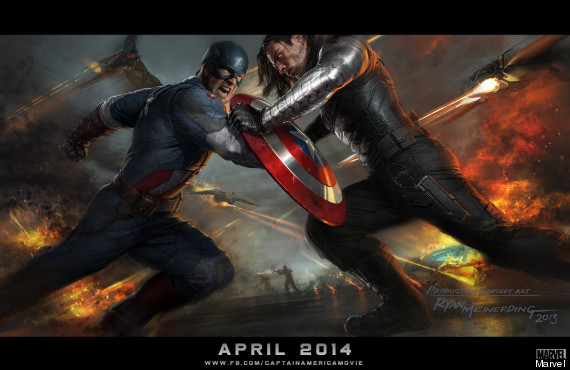 PHOTO GALLERY
Comic-Con 2013
07/20/2013 10:24 PM EDT
That's A Wrap From Hall H
The Marvel panel, a hit-and-run affair, is over. Thanks for joining.
07/20/2013 10:09 PM EDT
SURPRISE
Joss Whedon is on stage.
07/20/2013 10:08 PM EDT
Better Than 'Gravity'?
The Guardians of the Galaxy footage could be my favorite thing I've seen at Comic-Con this year.

— Eric Vespe (@EricVespe) 4 years ago
07/20/2013 10:08 PM EDT
The First 'Guardians Of The Galaxy' Footage Has Screened
Mike Ryan: "Wow, that movie is going to be awesome!" Despite only 13 days of shooting so far, there was a ton of footage. The clip starts out with Starlord (Pratt) being captured by some sort of alien authorities. "Who are you?" asks one. Then Pratt delivers a dramatic, "Starlord!" The alien says, "Who?"
07/20/2013 9:59 PM EDT
How Did Benicio Del Toro Get Involved In 'Guardians'?
"A phone call," the actor joked. Del Toro said he hasn't started filming yet.
07/20/2013 9:58 PM EDT
Burt Macklin, FBI
Introduced as Marvel's next great hero .. Chris Pratt as Star Lord. "He's kind of a jerk," Pratt says http://t.co/sw1j8PzFTH

— ErikDavis (@ErikDavis) 5 years ago
07/20/2013 9:55 PM EDT
Why Chris Pratt Is Jacked Now
What Pratt was told when he got the role: "I got the role six months ago, and they said, 'Great job, but you're too fat!'"