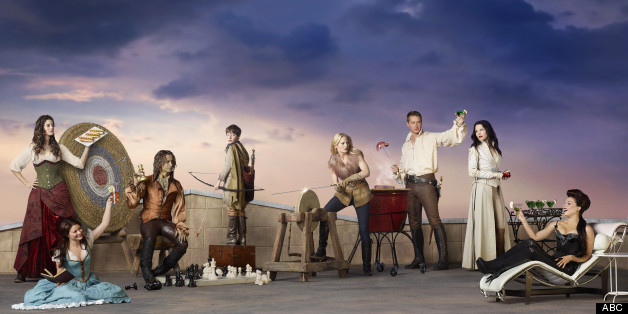 The cast and creators of "Once Upon a Time" are in attendance at San Diego Comic-Con to promote Season 3, follow along with the liveblog below to find out what's ahead.
On the panel: Executive producers Adam Horowitz and Eddy Kitsis, Ginnifer Goodwin (Snow White/Mary Margaret), Jennifer Morrison (Emma), Lana Parrilla (Regina/The Evil Queen), Josh Dallas (Prince Charming/David), Robert Carlyle (Rumplestiltskin/Mr. Gold), Emilie de Ravin (Belle), Colin O'Donoghue (Hook), Michael Raymond James (Neal/Baelfire).
07/20/2013 2:46 PM EDT
That''s a wrap on "Once Upon a Time."
07/20/2013 2:45 PM EDT
Footage shown of Grumpy sitting by the water to eat lunch and someone stealing his fork while his back is turned. He turns, notices and follows footprints to the water where he spots a redheaded mermaid surfacing from the water, waving the fork and diving underwater. Her back was to the camera, but Ariel is coming!
07/20/2013 2:42 PM EDT
There's a reason why Neal landed where he did land, which we'll explore.
Kitsis says Neal wants to get back to Emma, but she's currently on a ship with Hook ...
Raymond James says "Neal's going to attempt to move heaven and hell [to get back to Emma], and if there's a captain in the way, so be it."
O'Donoghue says it's about time for Hook to get over Milah.
Dallas interjects "not with my daughter!"
07/20/2013 2:39 PM EDT
Is there any chance Snow and Charming would break up?
Kitsis: That's the death of all hope, right there!
Morrison: We were all in pain just thinking of it!
Parrilla: I'll never stop trying ...
07/20/2013 2:39 PM EDT
Things in common with their characters
Goodwin: Optimism, impulsivity -- is that a word?
Dallas: Impulsive, he can let things run wild in him -- I've got a bit of that
07/20/2013 2:37 PM EDT
Is there anything Rumple can do that Belle and Bae wouldn't forgive?
Carlyle: There's a lot of things he could do that people wouldn't forgive.
de Ravin: I'm pretty forgiving though.
[They hug across Lana, who is seated between them.]
07/20/2013 2:30 PM EDT
A fan asked how Belle would feel about finding out she's pregnant while Rumple's away.
Kitsis: That's not bad!
Raymond James: I always wanted a brother!
07/20/2013 2:29 PM EDT
What will Belle be up to in Storybrooke?
Belle for mayor? de Ravin suggests.
Horowitz: There's a lot in story for Belle. What's happening in Storybrooke and what's happening in Neverland are connected in hopefully a surprising way.
Kitsis: Gold is on a suicide mission ... So my question is, will these two ever be reunited?
07/20/2013 2:27 PM EDT
They're now showing a hilarious segment of "Good Morning Storybrooke," hosted by Yvette Nicole Brown and Paul Scheer. The spoof morning show features Bedside Manner with Dr. Whale offering love advice, an awkward ad for Granny's Diner presented by Ruby, and a creepy ad for Mr. Gold's Pawn Shop. Jane Espenson wrote the segment.
07/20/2013 2:23 PM EDT
Working with Jorge Garcia
Morrison: What a great guy. I was so happy that it was him playing that role. He's just lovely to have around no matter what; he's such a wonderful addition to the cast.
Kitsis: We love Jorge, we wrote for him for six years on "Lost," and we always knew we wanted to make a giant into a dwarf. We'd love to see him again this season, we'll see if his schedule allows. But we'll be in Neverland for now, focusing on the people on this stage.