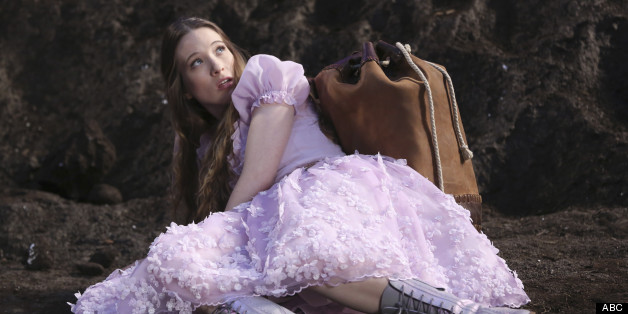 The cast and creators of "Once Upon a Time in Wonderland" were in attendance at San Diego Comic-Con to present footage from the new ABC series and preview what's ahead when the show premieres in the fall. In attendance were Producers Zack Estrin, Adam Horowitz and Eddy Kitsis, and stars Sophie Lowe (Alice), Peter Gadiot (Cyrus), Michael Socha (Knave of Hearts), Emma Rigby (The Red Queen) and Naveen Andrews (Jafar).
Check out the liveblog below to find out what the stars and executive producers have in store for the magical new series.
07/20/2013 1:58 PM EDT
That's a wrap from "Wonderland"!
07/20/2013 1:58 PM EDT
A little boy asks if we'll see the March Hare or the Doormouse. The producers say yes, they'll definitely be mentioned early on and they plan to mine the Alice mythology. Roger Daltrey will continue to voice the hookah-smoking caterpillar, we'll see him and the Cheshire Cat in the full pilot. We'll flash back to how Cyrus became the genie, Jafar's backstory, and other past events, and explore post-curse Wonderland.
07/20/2013 1:55 PM EDT
Kitsis and Horowitz were approached about a spinoff in Season 1 but didn't have an idea.
Kitsis: We loved going to Wonderland, we felt like there were so many stories [that we couldn't explore in "Once']. This is its own adventure, this lives in its own world. If you've never seen "Once," you can jump into this and enjoy it without missing a beat.
07/20/2013 1:52 PM EDT
Challenges of adapting classic characters into modern roles
Horowitz: The challenges are soul-crushing. You feel an incredible amount of responsibility ... because we want to honor what's come before and do it proud.
07/20/2013 1:51 PM EDT
No sci-fi characters like Frankenstein in "Wonderland," but mash-ups with "Once." The door is still open for Sebastian Stan, once he gets less busy with "Captain America." But we will see the Queen of Hearts again.
07/20/2013 1:50 PM EDT
LGBTQ Characters in Wonderland?
Kitsis: We're very supportive. As far as Wonderland, we're only on episode 2 -- we're still figuring out the season, but in the "Once" universe, there will be a gay character at one point. But we want to do it right and because we respect love and we believe in it, it's not because we're checking off a box. We respect love and we want to do it justice.
07/20/2013 1:48 PM EDT
Kitsis: When I see the Red Queen use magic, it makes me wonder if she spent any time with the Queen of Hearts in Wonderland ... We're going to tell you Alice's backstory with everyone on this stage; we'll meet her father; we're going to tell you why Jafar is in Wonderland; how the genie came to be in the bottle ... We're going to tell a complete story.
07/20/2013 1:46 PM EDT
The friendship between the Knave of Hearts and Alice
Kitsis: We like our mashups, we have our genie and Alice and that's one story, and we have the Knave and his backstory, and that will lead back to the Enchanted Forest.
07/20/2013 1:44 PM EDT
How many episodes? That's still to be decided.
Kitsis: [The plan] is to tell a complete, closed-ended story this season -- after this batch of episodes, this particular story will be concluded.
07/20/2013 1:43 PM EDT
Jafar
Horowitz: We always wanted to have Jafar to be part of this story, but we only had 19 minutes to do this presentation.
Kitsis: We always had Naveen in mind and he agreed to be part of it.
Naveen: I hope it'll be something you've never seen before, it should be.
Kitsis: It's going to be very frightening.
BEFORE YOU GO
PHOTO GALLERY
Comic-Con 2013: 20 TV Must-Sees