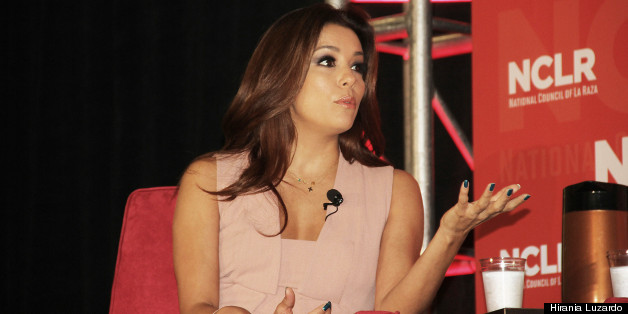 NEW ORLEANS -- Eva Longoria wants equal access to higher education for all Latinos.
The actress and Latino rights activist spoke about the importance of education for the Latino community on a panel Saturday at the 2013 National Council La Raza (NCLR) conference in New Orleans. NCLR is one of the largest organizations advocating for Latino rights in the United States.
The panel titled "Beyond Immigration Reform: Education As A Catalyst For Integration" dealt with the influence that an education, or a lack of one, can have on the power of the Latino community.
The star pointed out that although college graduation rates for Latinos are at an all-time high "[they're] not keeping up with demographic changes."
College graduation rates for Hispanics have increased seven-fold since 2008, according to the Pew Hispanic Center. Yet the Hispanic population in the U.S. grew 43 percent from 2000 to 2010. At this rate, non-Hispanic whites are expected to lose their majority by 2043. Longoria believes it's important that the Hispanic community's education keep pace with its population growth.
A major barrier for Latino education is the lack of representation among teachers and within school boards. "We don't have enough of our own represented in the teacher workforce," said Janet Murguia, the president and CEO of NCLR during the panel.
In 2011, more than 21 percent of schoolchildren were Hispanic, according to The Washington Post, yet only 7 percent of teachers were Hispanic.
This underrepresentation leads to minority students dropping out because they don't feel supported, as research from the Urban Review shows. "I call it a push-out rate not a dropout rate," said the actress.
Longoria pointed out that the barriers to education have not changed in the past 30 years; socioeconomic differences and discrimination are still there. She believes it is time to "focus on what we're doing right" in order to make a change.
BEFORE YOU GO
PHOTO GALLERY
Eva Longoria's Accomplishments Through The Years