The California Highway Patrol takes speeding seriously. Really seriously.
Especially if you believe a series of rogue road signs that have been popping up in Marin County informing drivers that speed is "enforced by drones."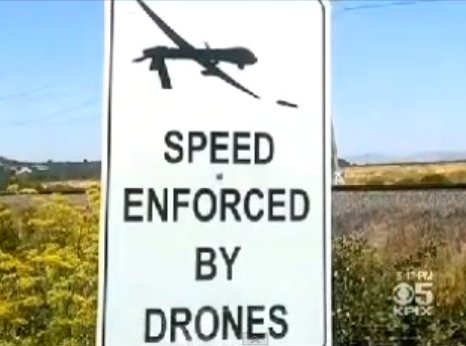 The signs, of course, are a hoax. Though not everyone was in on the joke:
Speed enforced by drone?! Wtf does that mean California?!

— Sarah Schobinger (@sschobinger) July 16, 2013
California Highway Patrol Officer Andrew Barclay assured CBS that drivers need not be worried.
"At CHP we definitely do not have drones," he said. "We use radar, lidar, pace, we have planes and we have helicopters, but we do not drones. We definitely do not have any drones that would fire any type of weaponry."
However, Barclay told CBS that the signs are as close to the real thing as possible.
"Professional materials, it is a black and white reflective sign, just like the signs that we use on the side of the road for speed limits," he said. "One of the signs that we found was actually mounted using tamper-resistant bolts."
So who is this mastermind? The creator is reportedly Napa-based artist Stephen Whisler.
"The motivation is partially political and partially a prank," he told NBC News.
Whisler said part of the motivation was to bring attention to increasing government surveillance and drone strikes abroad.
"There's a really serious side to this," he told CBS. "I think we all have to be aware of what's going on with the NSA, with all of the snooping on the Internet and on the phones. I think the drones really tie into that."
Another CHP officer, Patrick Roth, admitted to NBC that he found the signs humorous, but explained that, technically, Whisler's project is illegal.
"I don't know what the consequences will be," Whisler told CBS. "I just felt like it was something I needed to do."
"Plus," he added, "It has brought some excitement into my life."
BEFORE YOU GO
PHOTO GALLERY
Hacked Road Signs