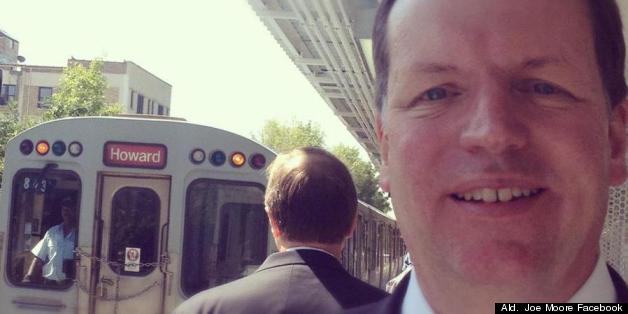 A Chicago Alderman known for reform-minded politics and going against the grain of former Mayor Richard Daley's administration is facing "multiple" ethics probes.
According to details first obtained by WTTW's "Chicago Tonight," Ald. Joe Moore (49th) is accused of abusing his authority by allegedly firing a staff member who blew the whistle on political campaign work being done in the ward office.
The report released Monday by Chicago's Legislative Inspector General Faisal Khan investigates a 2012 complaint that the alderman in question first fired an aide in 2007 and provided the aide with $13,497 worth of taxpayer-funded severance. The second firing, this time of the whistle-blowing staffer, came in 2009. The staffer was given $8,709 in taxpayer-funded severance and reportedly told not to speak about the matter.
Moore isn't specifically named in the report, but "multiple sources" have confirmed to WTTW and Fox Chicago that Moore is the alderman in question. According to the report, Moore's current chief-of-staff is also implicated in the 2009 ethics violation.
While on vacation Monday, Moore, who is an occasional HuffPost blogger, told Fox Chicago in a statement, "The accusations raised by Attorney Faisal Khan in his report and aired on WTTW last night are completely false," Moore said in a statement. "They provide more evidence of an office run amok with a lack of professionalism that should be unacceptable to every Chicagoan."
Moore's alleged conduct is described in the report as theft and abuse of authority and was referred to the FBI and the Cook County State's Attorney. However, the statute of limitations had run out by the time the complaint was filed and the state's attorney never pursued the investigation. According to the report, the alderman is asked to pay back the city a total of $22,206.
Moore is expected to respond to the allegations at 7 p.m. Monday evening on WTTW.
The 55-year-old alderman (whose birthday coincidentally is Monday, the same day the report was released) was first elected to the City Council in 1991. His ward encompasses Rogers Park, West Ridge and Edgewater.
BEFORE YOU GO
PHOTO GALLERY
Corruption In Illinois