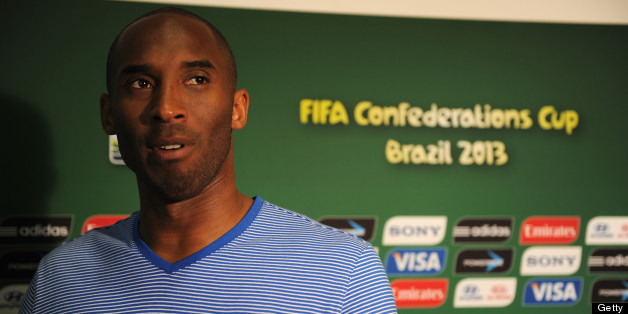 So who wants to be a Laker?
Before, the question seemed like a no-brainer. Wearing a purple and gold uniform usually brought championships. Becoming a Laker meant entering the Hollywood spotlight and ensured living in a comfortable climate near beaches, nightclubs and Disneyland.
That lure no longer appears as long-lasting as Jack Nicholson sitting in his courtside seat and the Laker Girls dancing during timeouts.
Dwight Howard could've stayed with the Lakers for five years and $118 million, but he joined the Houston Rockets on a four-year, $87.6 million deal. Howard said he felt convinced he had a better chance to win an NBA title with the Rockets' young roster than he could with the Lakers' veteran-laden personnel.
The Lakers have only Steve Nash ($9.7 million) and Robert Sacre ($915,243) on the books in the 2014 offseason, leaving them with enough cap space and hope to acquire a high-priced free agent such as LeBron James or Carmelo Anthony. Good luck with that pursuit, though, should the Miami Heat or New York Knicks win the NBA championship next season.
Within the financial constraints the Lakers encountered this offseason, however, they found plenty still nostalgic over the team's brand. Here's the kicker: each player actually should bolster the Lakers' roster.
The Lakers only had the mini mid-level exception ($3.2 million) and veteran's minimum ($1.4 million) to upgrade their roster. But they somehow managed.
The
Lakers used their mini mid-level exception to acquire 10-year veteran center Chris Kaman, whose versatility and effective mid-range jumper should yield effective chemistry with Pau Gasol. The Lakers also signed a flurry of young players at the veteran's minimum.
That included former USC standout Nick Young, whose scoring prowess at small forward made them more comfortable waiving Metta World Peace through the amnesty provision and saving up to $15 million in luxury taxes. Swingman Wesley Johnson gives the Lakers additional athleticism and perimeter defense. Former UCLA product Jordan Farmar has returned to the Lakers three years after helping them win back-to-back NBA titles and gives them a much-needed insurance policy should Nash suffer another injury.
So much for Lakers general manager Mitch Kupchak expressing doubt whether he could find young, albeit inexpensive, talent to upgrade his roster.
"If it's a younger player, he's probably not going to take the veteran's minimum," Kupchak said recently. "If he does, he's probably not good enough to play. As much as I'd like to sit here and say we're going to get young, athletic players that can really shoot the ball at the veteran's minimum when they're 20 to 25 years old, that's probably not realistic."
It helps these free agents insist they paid little attention to the Lakers' first-round flameout to the San Antonio Spurs.
"You need a team, you need a bench, you need depth, you need health, you need luck. A lot of things go into success," Farmar said. "One turbulent season, injury-plagued, didn't really affect me at all in terms of my decision to come and play here."
It helps some of these free agents grew up cheering for Kobe Bryant, even if they say he didn't play an active role in recruiting them to the Lakers.
"Kobe was one of my idols," Young said. "To have the opportunity to step on the court, pick his brain and see how he carries himself day in and day out, it's going to be big for me playing for the Lakers.
"It's a dream come true."
"You want to listen to a guy like that with the stuff he's accomplished," said Johnson, who shares Bryant's same agent in Rob Pelinka. "Being alongside with him on the court, I'm going to learn a lot more."
And it helps that one of them didn't have any better alternatives.
"There wasn't a ton of options," Kaman said. "Waiting for Dwight to make his decision jammed things up a little bit for the big guys. For me, I thought it was a comfortable fit."
It wasn't that way for others, though.
Even though he said he had offers from "a lot of different teams," Johnson considered it a "no-brainer" to sign with the Lakers at the veteran's minimum. Farmar took a significant pay cut to return to his hometown after signing a three-year, $10.5 million deal last year to play in the Turkish Basketball League.
"I've been watching the Lakers since the moment I left," Farmar said. "I stayed up every night while I was overseas, till 2, 3, 4 in the morning watching games, just feeling that's where I belong. That's where I was the most comfortable. That was home for me."
Uncertainty still remains, though.
Will Young play any defense? Can Kaman return to All-Star form? Can Johnson live up to the hype of becoming the fourth pick in the 2010 NBA draft? Will Farmar find enough of a role behind Nash and Steve Blake?
Kupchak praised Young's scoring and gushed over Kaman's versatility.
Kupchak, through team spokesman John Black, envisioned Johnson becoming the next Michael Cooper or Trevor Ariza. Kupchak also lauded Farmar's persistence in ensuring the Lakers negotiate a buyout, reportedly worth about $500,000, with his Turkish Club Anadolu Efes. But Kupchak hasn't fielded any questions since Howard's departure, a void that leaves the Lakers without a definitive franchise player following Bryant's retirement.
Despite the Lakers' lucrative deal with Time Warner Cable SportsNet, the punitive tax penalties for high-spending teams prompted the Lakers to waive World Peace through the amnesty clause and allow Earl Clark to sign with Cleveland for $9 million over two years.
But as the Lakers discovered this offseason, there's still plenty who want to wear the purple and gold for reasons that remain the same as they've always been.
"I still feel the Lakers have a chance," Young said on the team's championship fortunes. "We have to play with a chip on our shoulder. Everyone is counting us out. We just got to prove people wrong this year.
"Anything less than a ring for Kobe is going to be disappointing."
BEFORE YOU GO
PHOTO GALLERY
2013 NBA Playoff Highlights