Here's something to keep you occupied while you wait for the royal baby: the Smithsonian National Zoo's panda cams are back!
The two cameras, which had been dark since May 30 when they went offline for upgrades, were switched back on at noon Monday. So far, Mei Xiang and Tian Tian have appeared sound asleep. (Hey, it's hot out there!)
PHOTO GALLERY
Panda Overload!
Zoo veterinarians are on panda pregnancy watch after Mei Xiang was artificially inseminated in March; vets performed an ultrasound July 3 but it's still to early to confirm whether or not she is pregnant or to detect a fetus.
According to the National Zoo:
The Zoo's panda team conducts behavior research using the panda cams, and remotely watches both bears. The team will monitor Mei's behavior especially closely a secondary rise in her urinary progesterone is detected. That rise will indicate the end of the breeding season is near, and Mei Xiang will experience a pseudopregnancy or give birth within 40 to 50 days. She will then spend increasingly more time in her den, and the panda cams will be the primary way for the panda team and panda fans alike to watch her.
In 2012, Mei Xiang was spotted cradling a tiny cub on the panda cam; the cub died a week later. Her surviving cub Tai Shan, born in 2005, was so popular among zoo visitors that Animal Planet released a DVD compilation of his first year.
On their first day back in action, the cameras captured Mei celebrating her 15th birthday with a frozen fruit cake topped with sugarcane. Her companion Tian Tian turns 16 years old in August.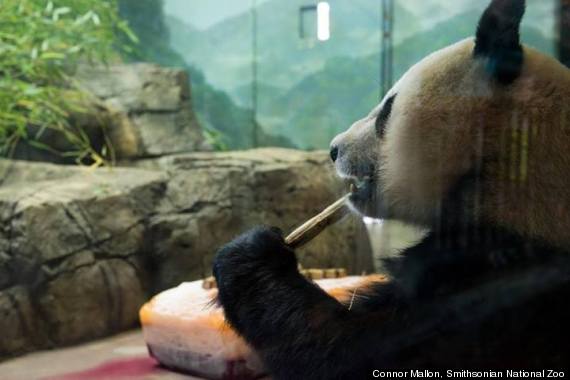 Click through the slideshow to see how the National Zoo's pandas -- and other animals -- beat the heat during the summer.
PHOTO GALLERY
National Zoo Animals Stay Cool