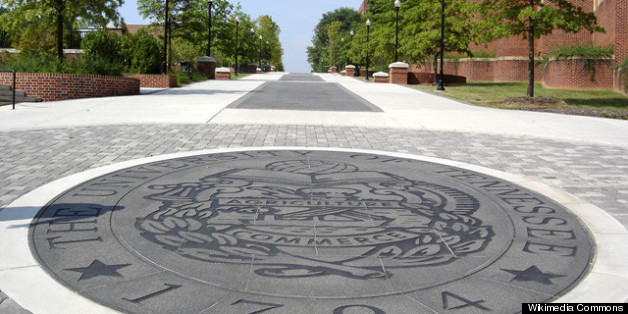 An embarrassing incident at a University of Tennessee fraternity, involving allegations that a student was "butt-chugging," has resulted in a series of new reforms on campus.
All UT fraternities are now required to have a live-in house director by the fall of 2014, to hire extra weekend security for the neighborhood, and to hold brothers to a minimum 2.75 grade point average to retain eligibility, the Knoxville News Sentinel reports. School officials are also considering a "good Samaritan" policy that would grant amnesty for drunk students who might need medical attention, according to the Associated Press.
The new reforms come after the Pi Kappa Alpha and Phi Gamma Delta chapters at UT were closed following sanctions for misconduct.
The Pi Kappa Alpha chapter at UT was indefinitely suspended in September 2012 following an incident in which an underage student, Alexander P. Broughton, then 20, was hospitalized for severe intoxication. Although Broughton denied it, authorities believed the Pi Kappa Alpha member used an alcohol enema, commonly referred to as "butt-chugging."
Broughton insisted his alcohol poisoning was the result of a drinking game called "Tour de Franzia," but police said he "showed signs of physical and possible sexual assault" and had a blood-alcohol content of .40.
Campus police officers said that they suspect fraternity members used "rubber tubing inserted into their rectums as a conduit for alcohol," CNN reported. Alcohol enemas are extremely dangerous and can cause death.
"It's the actions of a few individuals that ultimately not only reflected negatively on the (Pi Kappa Alpha) fraternity, but also the greek system and the university as a whole," Kelly Williams, chapter adviser for Sigma Phi Epsilon, told the News Sentinel.
The Pi Kappa Alpha chapter was closed by UT a week after the alleged "butt-chugging" event, when the fraternity pleaded guilty to seven misconduct charges. UT Vice Chancellor for Student Life W. Timothy Rogers called the incident a "black eye" for the university.
Another fraternity, Phi Gamma Delta, was closed by UT in May 2012 following sanctions for hazing and alcohol violations, according to the News Sentinel.
The new reforms come from the recommendations of a task force, released in March. The task force also suggested "re-education programs" about expected behaviors, hazing and risk management, and that a commission "review the effectiveness" of disciplinary procedures against students and student organizations.
BEFORE YOU GO
PHOTO GALLERY
11 Best Frat Houses