When we think of Disney, we don't usually picture gun-wielding princesses and royal robbers. But for one Swedish street artist, who re-imagined typical Disney characters as dark princesses, that's exactly what he sees.
Known only as Herr Nilsson, after Pippi Longstocking's pet monkey, the Stockholm-based artist began creating his graffiti art around the city about a year and a half ago, according to Sweden's The Local.
Though he has incorporated Disney cartoons into his street art before, he came up with the idea to paint popular Disney characters like Snow White and Cinderella in a grim light earlier this year.
(Story continues below.)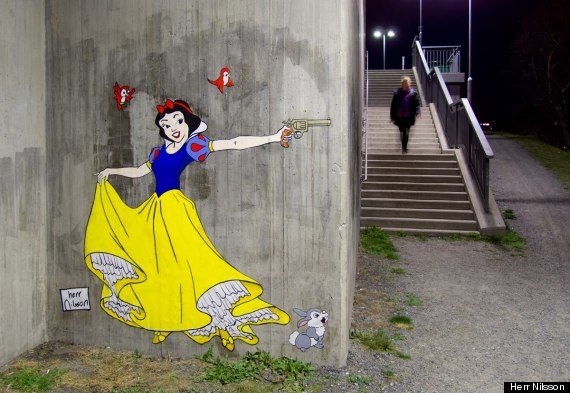 "The Dark Princesses are a comment on violence, but they are also a comment to how we look upon good and bad in the world. Everybody expects a fairytale princess to always look good and behave well. If I was one of them I would revolt after a couple of days. And in my world they do," Nilsson told The Local.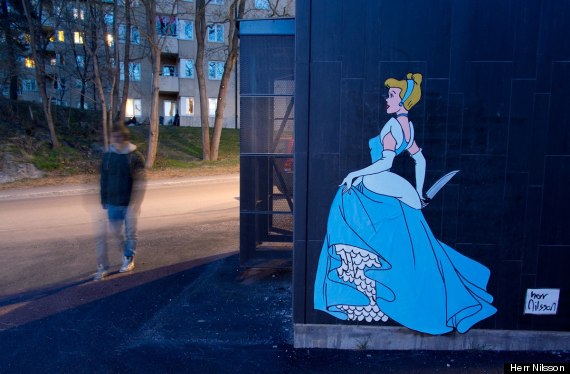 While street art is fairly common in the Swedish capital, its not without controversy. Disputes erupt primarily between artists and the authorities. Since Stockholm has a zero-tolerance policy toward graffiti and vandalism, artists are forced to work around the ban and should not expect their work to stay up for more than 24 hours.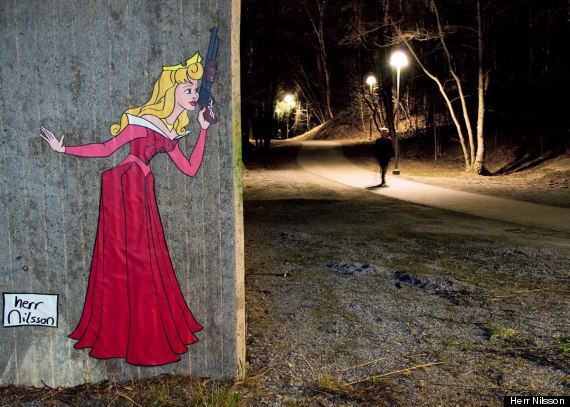 This is not the first time an artist has envisioned the darker side of Disney. Artist Rowan Stocks-Moore also expressed his notion of Disney's seedy underbelly in a poster series after re-watching several of Disney's iconic films.
See more of Herr Nilsson's street art on his Facebook page.
BEFORE YOU GO
PHOTO GALLERY
Best Cities For Street Art