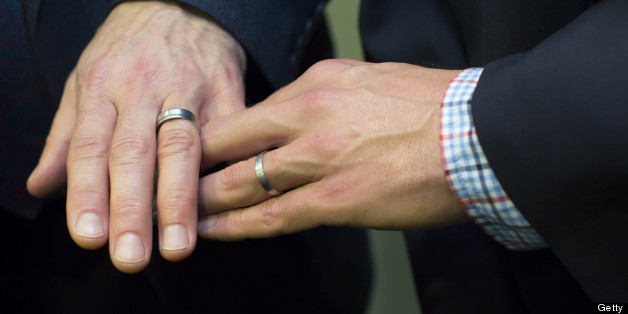 WASHINGTON -- The Federal Election Commission appears poised to change course and apply the same regulations to donations from married same-sex couples as they do to those from opposite-sex spouses.
The reversal would be a ripple effect of the Supreme Court's decision to strike down the Defense of Marriage Act as unconstitutional. It could enable a gay spouse to use his or her joint household income to make donations, something prohibited under current law.
"In light of the [overturning of DOMA], the Commission concludes same-sex couples married under state law are 'spouses' for the purpose of Commisssion regulations," reads the FEC opinion, written by Chairwoman Ellen Weintraub. "The Commission therefore determines that for purposes of 11 C.F.R. § 110.1(i) [the code of regulations for the FEC], the term "spouse" includes same-sex couples married under state law. Thus, the Committee may apply 11 C.F.R. § 110.1(i) to the contributions it receives from such persons."
The FEC opinion is advisory in nature, and the commission notes that members of the public still have the chance to submit written comments and attend a meeting that could end up altering the final decision.
Still, the response suggests that a change of policy is in the offing. It would be limited to those gay couples with state-recognized marriages, which remain available in only a portion of the country. But it would give those couples the right to make a single campaign contribution to a federal candidate from a joint bank account, even if only one spouse has earned income.
The FEC's opinion came in response to a request from the Democratic Senatorial Campaign Committee to change its policy following the Supreme Court decision. The DSCC had also asked the FEC to consider allowing Senate candidates in legal gay marriages to utilize their jointly held assets for their campaigns. The draft opinion says that such candidates could use those assets.
"Gay couples who marry deserve the same rights and responsibilities to participate in the election process as their straight counterparts, and the DSCC is urging the FEC to make the right call and adopt the draft released today," said DSCC Executive Director Guy Cecil.
The draft opinion potentially represents a significant reversal from regulations imposed several months ago. As recently as April 2013, the FEC had ruled that a gay man or woman legally married under state law could not give joint contributions to federal candidates using the assets of their spouse.
But that was before the Supreme Court ruling. And in hearings after the earlier FEC decision was announced, Weintraub basically acknowledged that she'd like the policy reversed if DOMA were struck down.
"Sometimes the law's an ass," she reportedly said.
BEFORE YOU GO
PHOTO GALLERY
Supreme Court Proposition 8 Case