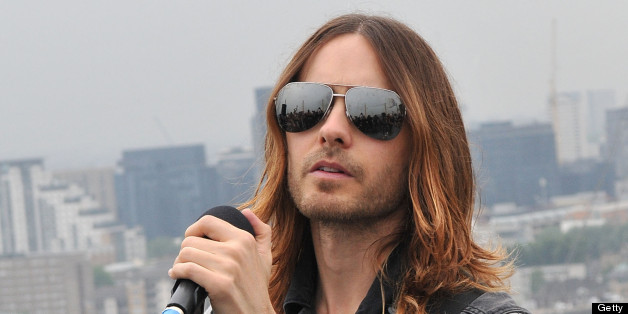 Mutli-hyphenate Jared Leto looked back on his turbulent past for a feature for UK publication The Big Issue. The feature, called Letter To My Younger Self, had Leto reflecting on what he could've become had he not gotten into acting.
"I was at a crossroads in life when I was 16," Leto told the publication. "I was taking a look at my opportunities and what I'd do with my life and how I'd go about it. I didn't know I was going to be an actor. I thought I might be an artist or a painter. Or maybe a drug dealer. But I didn't know which path I would take. It's just fortunate that I chose one over the other."
Leto, who fronts the rock band 30 Seconds to Mars and has starred in films including "Requiem for a Dream" and "Girl, Interrupted" as well as the television series "My So-Called Life," has been open about his struggles with addiction in the past, telling Rolling Stone in 2011, "The disease of addiction is a very familiar part of my life. It's a brutal and savage condition that wreaks havoc not only on the addict but those around them as well."
Leto continued his letter to himself, remembering, "I dropped out of school. My adolescence was actually a very turbulent time for me. I think we're all dealt a set of challenges in our lives and we all deal with them in different ways. When you're younger you don't have the tools, you just don't know how to cope with those challenges. Probably a lot of my behavior was related to doing drugs."
For more from Leto, head over to The Big Issue.
PHOTO GALLERY
Jared Leto Poses With Elephants
BEFORE YOU GO