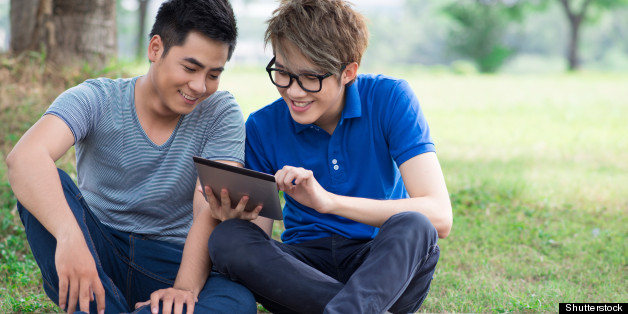 There's no denying it: the summer before you go to college for the first time is an important one. Whether you're leaving home or commuting to a local school, there's a lot of prep that goes into getting ready. From packing up your room to saying goodbye to friends, it's easy to think this summer is full of definite ends and finalities, but this isn't necessarily true.
Here are 5 things you may be stressing over (unnecessarily!) about the summer before your freshman year of college.
1. Goodbyes to friends are final. When you and your friends get ready to start school and head in different directions, it's important to remember that your goodbyes are not forever. Whether it's over Thanksgiving break, random weekend trips or even the following summer, you'll be sure to see your friends again. Growing up doesn't necessarily mean growing apart -- and visiting friends at their new schools is a fun way to bond and become closer.
2. You have to buy ALL of your college-related stuff in one summer. If you're moving away for school and into a dorm room, chances are your list of things to purchase is a mile long. Students sometimes think they need to buy every single thing that Bed Bath & Beyond sells and that they need to do it immediately, but that's not always practical. This is the first summer you're leaving for school, not the last! After grabbing some essentials, you'll have plenty of time to evaluate what else you need after you move in and more time passes.
3. Working is a waste of time. A great way to save money for your first semester of college is by working over the summer. From textbooks to your fall wardrobe, and all the college gear you'll want when you arrive on campus, you're going to definitely want some expendable funds in time for school to start. Working over the summer is just as important as any other part of getting ready for college.
4. You don't need to worry about making a resume or LinkedIn profile yet. As a rising college student, your professional career is already in motion. Having a resume already in the works is a great way to get a head start on networking, as well as creating a LinkedIn account. In addition to helping your professional career, these are helpful ways to also connect with professors and students at your future school.
5. Everything you do around your hometown will be "the last time." Even though it might be difficult to look at the big picture when you're getting ready to leave behind your high school years and start a new phase of your life, this isn't the last time you'll experience the familiarity of your hometown. Instead of being sad and worrying about never coming home, focus on the positives. You'll come back again over breaks and vacations.
BEFORE YOU GO
PHOTO GALLERY
Reddit Roundup: "What Happened In Middle School That Still Makes You Cringe?"