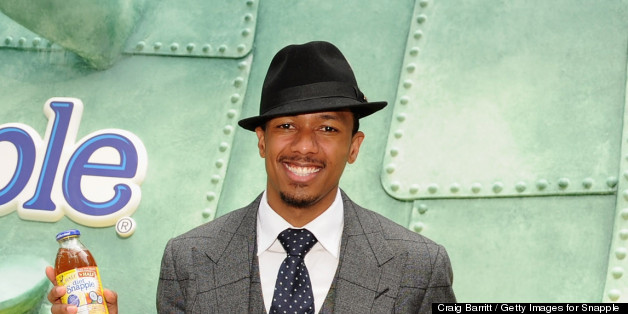 These days, our knowledge of celebrities too often originates with paparazzi images and snarky quotes by anonymous "insiders." After a while, it's easy to forget that stars are real people. That's why HuffPost Celebrity decided to launch its all-new #nofilter quick-fire question-and-answer series. Because how well do you know someone until they've shared their guiltiest pleasures?
Nick Cannon has been gracing the small screen since he joined the cast of Nickelodeon's "All That" in the late '90s. But Cannon, now the proud papa of adorable 2-year-old twins with wife Mariah Carey, seems busier than ever these days. Cannon, 32, hosts "America's Got Talent," recently released an EDM album, "White People Party Music, and just revived MTV's hip-hop-themed improv-comedy series "Wild 'N Out." He's also teaming with Snapple to present Lady Liberty with a giant sandal, inspired by one of the "real facts" featured under Snapple bottle caps ("The Statue of Liberty wears a size 879 sandal"). While in New York for the "America's Got Talent" live finale shows, Cannon chatted with us about his latest projects.

Why did you want to be part of this Snapple event?
I thought it was cool. It's a great partnership, obviously, because Snapple helps "America's Got Talent" present the show each week already, and I'm always drinking Snapple on the side of the stage. My favorite part of the Snapple bottles is the real facts underneath the caps. And now Snapple's bringing the facts to life and it's starting at Radio City Music Hall, where they have an actual sandal in the Statue of Liberty's actual shoe size, 879. For them to do fun things like this matches who I am.
What's the craziest fact you've learned from a Snapple cap?
I saw one this morning saying that armadillos have babies four at a time and they're all the same sex. I never knew that.
What's your guiltiest pleasure?
Kung-Fu movies.
What's one item that's always in your refrigerator?
Snapple. That's the God's honest truth.
What's your favorite Snapple flavor?
Lemon iced tea.
What's the best part of doing "America's Got Talent"?
Getting to see people accomplish their dreams -- everyday Americans strive for something they wouldn't normally have the opportunity to do.
Why did you want to bring back "Wild 'N Out"?
It needed to be back. It was back by popular demand. Everywhere I went, people were asking for it, they were creating Facebook campaigns for it. I had so much fun doing it, and so many people had such a huge launch for their careers off that show. And I know there's so much fresh, young talent out there. I was like, we have to keep this going. We were already 50-something episodes in, so to come back and knock out 50 more, why not?
Who's been your favorite celebrity guest, and who would you love to have on a future episode?
It would have to be a toss-up between Steve-O and Tyra Banks. Snoop Dogg was great. Kanye was great. Out of everybody, Kanye was probably the best. And from that point, I've got to get Jay Z on next, have the whole "Throne" come through.
Who's the funniest celebrity on Twitter?
Probably Chris Rock.
How much time do you spend on Twitter?
I'm always on it. Probably at least 10 hours a day.
What shows are always on your DVR?
"Boardwalk Empire," "Scandal," "Unsung" and "America's Got Talent." And "Real Husbands of Hollywood."
You have a new album, "White People Party Music." What kind of feedback from fans have you been getting?
People love it. People can't wait for "White People Party Music." They just like saying it. "WPPM" is going down!
What's the last song you downloaded?
The clean version of "BBC" by Jay Z and Nas because I needed to play it at a party where I couldn't play the dirty version. That was two nights ago.
What would people be surprised to know you've never done?
I've done a little bit of everything. I've never been able to sky-dive, and I've always wanted to. I've probably done everything else, but for some reason the insurance company won't let me do it.
What's one thing from your childhood wardrobe that you wish you could wear now?
OshKosh B'gosh. They don't make those in my size.
What's on your nightstand?
A Bible. And candy.
What's the dumbest thing you've read about yourself?
So many things. Probably that I was gay.
Whose signature would you hang on your wall?
Michael Jackson.
What's the most important quality in a mate?
Honesty.
What movie could you watch over and over?
"Coming to America."
BEFORE YOU GO
PHOTO GALLERY
Nick Cannon