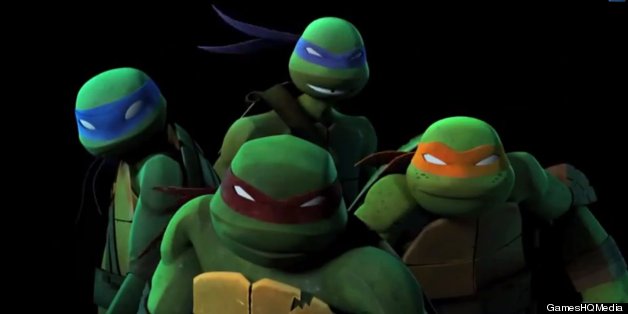 With a Hollywood blockbuster in the works and the 2012 Nickelodeon launch of a new CGI-animated TV series, it seems that the Teenage Mutant Ninja Turtles have successfully crawled back into the foreground of the pop culture scene.
Now it appears that the anthropomorphic turtles, who were first made famous in the 1980s, are also making a comeback in video games. Two Activision games based on the Ninja Turtles franchise are slated for release later this year.
In March, the games' developer announced its plans to release "Teenage Mutant Ninja Turtles: Out of the Shadows" -- a downloadable title that will be available for Xbox 360, PC and Playstation 3 -- in August.
"Inspired by the Nickelodeon animated series, the third-person brawler features a 'hyper-realistic 3D-style,' 'true-to-life' environments and a combo-driven battle system," wrote Digital Spy's Matthew Reynolds of the game in March. "Four-player online co-op sees players control Leonardo, Donatello, Michelangelo and Raphael as they attempt to defeat the Foot Clan in New York City."
This week, Activision announced a second game starring the crime-fighting reptiles. Also based on the Nickelodeon TV show, the game -- simply titled "Teenage Mutant Ninja Turtles" -- will be geared toward a younger audience. Available for the Xbox 360, Wii and 3DS, the game is scheduled for an October release.
(Watch a trailer for the game below.)
"We're thrilled to debut this new Teenage Mutant Ninja Turtles video game for our younger Turtles fans," said Nickelodeon's Sherice Torres of the side-scrolling game, according to a press release. "Jam-packed with all the ninjas, nunchucks and non-stop action Turtles fans crave, Teenage Mutant Ninja Turtles is set to delight fans around the globe when it launches in time for the holidays."
Having appeared in dozens of titles over the past two decades, the Ninja Turtles are no strangers to the world of video games. In 2009, the weapons-wielding creatures appeared in "Teenage Mutant Ninja Turtles: Turtles in Time Re-Shelled," a remake of a 1991 arcade game, and "Teenage Mutant Ninja Turtles: Smash-Up," among others.
BEFORE YOU GO
PHOTO GALLERY
Xbox One vs. PlayStation 4