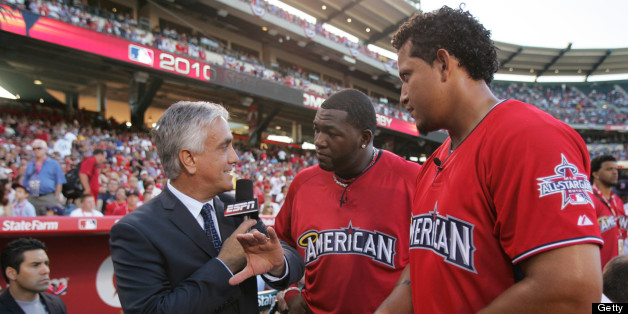 Pedro Gomez, the son of Cuban immigrants to the United States, knows his translations mean a lot to the players, and he has known that since long before he was on the air.
"I can tell you that, before ESPN, when I was a print journalist, the Latin players all knew that I spoke Spanish, whether I spoke with them directly or word spread through baseball. When I walk into a Major League Clubhouse, the Latin players will gravitate toward me because they know they can communicate with an American journalist in their native language. They are so much more at ease."
As I recall, the 2007 Major League Baseball All-Star Home Run Derby in San Francisco that season featured a duel between Vladimir Guerrero, then of the Los Angeles Angels of Anaheim, and Alex Rios of the Chicago White Sox.
Teammates for both players kept shouting words of encouragement in Spanish and, as I remember, it prompted ESPN's Chris Berman to ask color commentator and Hall of Famer Joe Morgan, "You getting any of this, Joe?" As if Joe Morgan knows how to speak Spanish.
And, oh yeah, that glaring problem of not having someone who could understand what the players from Latin America were saying. Missing out on some tidbits that, for hardcore baseball fans, would have made the Home Run Derby so much more interesting.
Being bilingual
Enter ESPN's Pedro Gomez. "This is my third year as sideline reporter and presentation host," says Gomez, who got his start in as an English-language newspaper reporter covering baseball in the Bay Area. "I was not selected for my bilingual skills," Gomez adds. "Though they have come in handy."
Viewers watching the Home Run Derby this season were treated to scenes of Gomez interviewing players in Spanish live on the air while simultaneously translating. "It is not easy at all," he says. "You have to basically turn on your brain's recording device. And you have to make sure getting the exact spirit of what is being said. No translation is ever verbatim , so coming as close as possible is what you want and it's not easy, especially if an answer gets long-winded."
Highlights of this year's Home Run Derby include Gomez' sideline reports with Cuban players Yoenis Cespedes of the Oakland A's, the eventual winner of the contest, and Aroldis Chapman of the Cincinnati Reds, for whom he translates.
Pedro Gomez has his critics
But what of the fans? Gomez says, "I have seen the stories about a faction of fans who were Tweeting their anger toward the idea that a Spanish-speaking player would be interviewed on an English-language network and then have his words translated. I have seen the ugly comments."
"However, I will also say that I receive at least 100 Tweets congratulating me on the ability to do such an interview."
And sometimes he finds that people are amazed at his bilingual skills. "A few times a Latin player has overheard me speaking to another player in Spanish and they have approached me and said, in Spanish, 'I had no idea you spoke Spanish. That's amazing to me.' I will still laugh with a few of those players to this day."
Gomez says his bilingual abilities underscore the need for media-related employers to hire more storytellers who can do the same thing. "I have always put it on my resume, that I speak fluent Spanish. I have to believe it has certainly helped. However, as one of my first sports editors (the late Leo Suarez) once told me, 'Your last name and being able to speak Spanish will simply crack the door. At that point, it's up to you to make your mark."
Originally published on VOXXI as Pedro Gomez gives English-language voice to Spanish-speaking players
BEFORE YOU GO
PHOTO GALLERY
Politicians Speaking Spanish