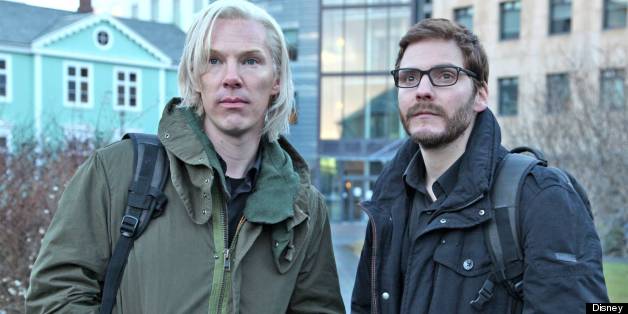 The 2013 Toronto International Film Festival announced a portion of its lineup on Tuesday morning, with big films like "August: Osage County," "Mandela: Long Walk to Freedom," "Gravity" and "12 Years A Slave" making the cut. Bill Condon's "The Fifth Estate," about WikiLeaks co-founder Julian Assange, will open the prestigious film festival. Benedict Cumberbatch stars as Assange, with support from Daniel Bruhl, Laura Linney, Anthony Mackie and Stanley Tucci.
"It's not an easy thing to do -- certainly within the studio system," Condon told HuffPost Entertainment when the film's trailer debuted. "So it was thrilling that this one was happening. This is a movie that includes complicated issues. There are such good arguments on all sides of this. Having the chance to explore it for a year seemed really exciting."
Other features that will screen at the 2013 edition of TIFF, the unofficial kick-off of awards season, include Ron Howard's "Rush," Jason Reitman's "Labor Day," Atom Egoyan's "Devil's Knot," "Once" director John Carney's "Can A Song Save Your Life?" the Matthew McConaughey feature "Dallas Buyers Club" and Nicole Holofcener's "Enough Said." That film is one of James Gandolfini's final two projects: the late "Sopranos" star, who died earlier this year, had finished work on Holofcener's film and the Tom Hardy project "Animal Rescue."
The 2013 Toronto International Film Festival schedule also included a few of surprises: David Gordon Green's "Joe," with Nicolas Cage in a starring role, made the cut, as did Jason Bateman's directorial debut "Bad Words." Matthew Weiner's feature film "You Are Here," with Zach Galifianakis and Amy Poehler will also have its world debut at TIFF.
Paul Haggis' "Third Person," with Liam Neeson, James Franco and Olivia Wilde, will screen as well, as will Kelly Reichardt's "Night Moves," with Jesse Eisenberg and Mia Wasikowska. Eisenberg and Wasikowska will also appear together in "The Double."
The closing night film at TIFF is Daniel Schechter's "Life of Crime," based on the Elmore Leonard novel "The Switch." Jennifer Aniston, John Hawkes and Yasiin Bey (a.k.a. Mos Def) all star in the feature, which takes place before the events of "Rum Punch," the novel Quentin Tarantino adapted for "Jackie Brown."
"I'm enormously proud," Schechter told HuffPost Entertainment earlier this year. "John Hawkes and Yasiin Bey are incredibly deep thinkers. They read the book. They have their own personal life perspective. I don't think they're going to study what Robert De Niro and Samuel L. Jackson did [in 'Jackie Brown']; they don't want to be doing any kind of imitation of those characters. But I cannot wait to see them together. I think it will be worthy of the amazing performances that De Niro and Jackson gave, for sure."
More on the 2013 TIFF lineup can be found here. The Toronto International Film Festival runs from Sept. 5 to Sept. 15. Festival organizers said about one-quarter of the films screening were announced on Tuesday.
PHOTO GALLERY
Celebrity News & Photos