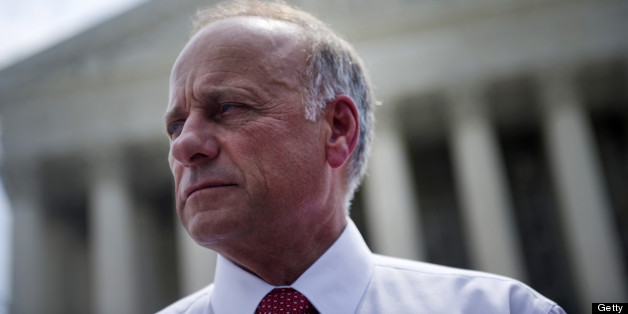 This GOP strategist doesn't care much for Rep. Steve King (R-Iowa).
King stirred up controversy this week when it was reported that he compared people brought to the United States illegally as children -- commonly referred to as DREAMers -- to drug mules.
"For everyone who's a valedictorian, there's another 100 out there that weigh 130 pounds and they've got calves the size of cantaloupes because they're hauling 75 pounds of marijuana across the desert," King told Newsmax in an interview last week, prompting activists, prominent Latinos and the Republican Party leadership to pounce on the Iowa conservative.
Ana Navarro, a GOP strategist who worked on the John McCain 2008 and Jon Huntsman 2012 presidential campaigns, offered perhaps the most scathing take:
Re Steve King's comments...glad GOP leadership standing up & calling out the hateful idiot. @Raul_Labrador is right. http://t.co/RcQwCnFiTf

— Ana Navarro (@ananavarro) July 24, 2013
Incidentally, Navarro isn't the only one who disagrees with King's take on immigration.
Some 68 percent of King's constituents say they back an "earned pathway to legal status," according to recent poll conducted by Tarrance Group. The figure supporting an "earned pathway to citizenship" was nearly as high, at 65 percent.
For his part, King is standing by the comments, saying that he's trying to talk about a real problem.
Four out of five drug busts along the U.S.-Mexico border involve a U.S. citizen, according to the Center for Investigative Reporting.
BEFORE YOU GO
PHOTO GALLERY
Dumbest Commentary About Latinos In 2012