 Anthony Weiner still leads the mayoral race...according to a poll fielded mostly before "Danger" struck. Obama's approval drops among African Americans in one poll, but not on another (with a bigger sample). And at 18 percent favorable, John Boehner is more popular than...Congress. This is the HuffPost Pollster update for Wednesday, July 24, 2013.
WEINER LED BEFORE NEW REVELATIONS - Quinnipiac, in its first poll of likely voters: "If Weiner drops out of the race, Quinn gets 30 percent to Thompson's 26 percent, with 21 percent for Public Advocate Bill de Blasio and 10 percent for Comptroller John Liu. If Weiner stays in, he has 26 percent in the first round of the Democratic primary, with 22 percent for Quinn and 20 percent for Thompson. de Blasio is at 15 percent with 7 percent for Liu, 1 percent for former Council member Sal Albanese and 8 percent undecided." The poll was conducted between July 18 and July 23. [Quinnipiac]
More polling tomorrow - Marist's Lee Miringoff: "Do NYers want Weiner out? NBC4NY/WSJ/Marist Poll tom'w at noon. Also, tossups on mayor & comptroller contests.#maristpoll." [@LeeMiringoff]
BOEHNER'S UNFAVORABLES RISE - HuffPost: "Twice as many Americans view House Speaker John Boehner (R-Ohio) negatively than view him positively, according to an NBC/WSJ poll released Wednesday....Only 18 percent of Americans have a positive opinion of Boehner, while 36 percent view him negatively, the poll found. Boehner's unfavorable ratings, which stood at 29 percent last December, jumped in the aftermath of January's fiscal cliff debate....Two-thirds of Americans polled in the NBC/WSJ survey said the Republican Party is emphasizing a partisan approach over unifying the country, compared to 55 percent who said the same of Democrats, and 48 percent who said the same of President Barack Obama. Fifty-six percent said Republicans are too inflexible in dealing with the president." [HuffPost]
OBAMA 'EROSION' WITH AFRICAN AMERICANS? - The new NBC/Wall Street Journal poll, like many other national surveys, finds a modest drop in President Obama's job approval rating (from 48 to 45 percent) since June. NBC's Mark Murray notes something potentially new: "The drop is explained in part by an erosion in support among African-American respondents ­-- 78 percent approve of his job, down from 88 percent in June and 93 percent in April. (The NBC/WSJ pollsters speculate that George Zimmerman's acquittal in the shooting death of Trayvon Martin could explain this drop, especially given African-Americans' increased pessimism about the nation's direction, according to the survey. The poll was conducted in the days following the verdict and includes responses that were received before and after the president's recent comments addressing Martin's death.)." Separately, as NBC's First Read notes, "the question is whether this is a temporary drop (due to the Zimmerman verdict) or something more structural." [NBC, First Read]
Not on the larger sample Gallup tracking - Keep in mind that the subsample of African Americans on the NBC/Wall Street Journal poll is relatively small. The NBC/WSJ pollsters tell the Huffington Post that their sample included 119 interviews (unweighted) with African Americans with a margin of error they report as +/- 8.95 percent. In plain English, that means results among African Americans will vary widely by chance alone (although the drop from roughly 90 percent in April to 78 percent in June borders on statistical significance). The Gallup daily tracking poll, on the other hand, reports on a combined sample of roughly 3,500 interviews per week, which includes a weekly sample size of African-Americans that should be roughly 3 times that reached by the most recent NBC/WSJ poll. According to Gallup, the average of Obama's rating among African Americans over the past week (89 percent) is slightly but not significantly higher than last the last two weeks (86 and 87 percent). And the average of the past four weeks combined (86.8 percent) is virtually unchanged from the average for April (86.3 percent), though like most of the rest of the adult population, slightly lower than in January (91.0 percent). [Gallup]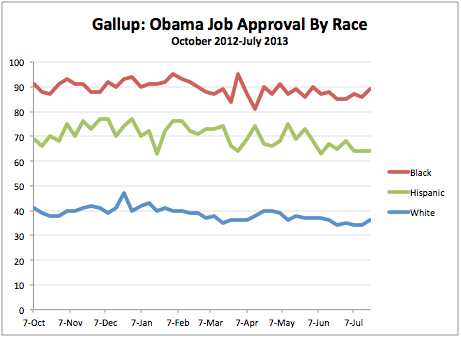 POST/ABC POLL FINDS 'PRIVACY CONCERNS RISE' -- The Post's Jon Cohen and Dan Balz: "Concerns about personal privacy are on the rise, with a big majority of Americans saying the National Security Agency's collection of telephone and Internet data intrudes on citizens' rights without clear improvements in U.S. security, according to a new Washington Post-ABC News poll. Nearly three-quarters of Americans say the NSA programs are infringing on some Americans' privacy rights, and about half see those programs as encroaching on their own privacy. Most of those who see the programs as compromising privacy say the intrusions are unjustified. The percentage of Americans who put a higher priority on privacy protections than the investigation of terrorist threats has more than doubled in a decade and has hit the highest point in any Post-ABC News poll dating back to summer 2002. Today, about four in 10 [39 percent] say it is more important to protect privacy even if that limits the government's ability to investigate possible terrorist threats." That's up from just 18 percent on Post/ABC polls conducted in 2002. [WaPost article, results over time]
But not as steep a rise as a recent Quinnipiac Poll - The movement on privacy versus counter-terrorism on the Post/ABC poll was not quite as big as the "massive shift in attitudes" reported on a Quinnipiac University survey conducted earlier in July. The Post/ABC poll found a 13-point rise in the percentage of Americans who think it is more important for the government to avoid intrusions on privacy since January 2010 (from 23 to 39 percent), while a Quinnipiac University poll found a "massive" 20-point rise (from 25 to 45 percent) since the same month on a similar measure. But since the Post/ABC poll has tracked this question a dozen times since 2002, we can see that worries about terrorism bumped up a bit in early 2010 following a failed al-Qaeda bombing attempt on Christmas Day 2009, in which a passenger tired so detonate explosives sewn into his underwear. As we reported earlier this month, the Quinnipiac poll may have also exaggerated the change, since the 2010 version of their question followed three other items that may have primed the specter of terrorist threats against the U.S. [Quinnipiac, HuffPollster]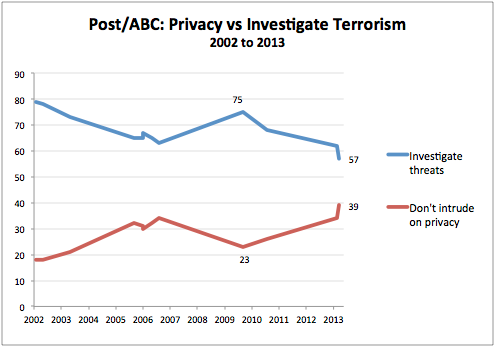 WEDNESDAY'S 'OUTLIERS' - Links to more news at the intersection of polling, politics and political data:
-The Supreme Court's favorability sinks below 50 percent. [Pew Research]
-Fox reports a "summer of discontent" among voters. [Fox]
-CBS finds record support for repealing Obamacare. [CBS]
-Voters increasingly want Congress to compromise. [YouGov]
-Polling suggests unauthorized Hispanic immigrants lean Democratic. [Pew Research]
-Democracy Corps announces a new initiative on the Republican Party. [Democracy Corps]
-California pollsters discuss the use - and limitations - of mobile technology. [SF Chronicle]
-Harry Enten says the Zimmerman trial is a case study of the importance of voting. [Guardian]
-Mark Mellman examines the polling on young adults' disillusionment with politics. [The Hill]
-David Hill is doubtful about Nate Silver's role at ESPN. [The Hill]
-Greg Dworkin rounds up more reactions to Silver's move. [Daily Kos]
-A data journalist at the Guardian warns against trusting visualizations. [Guardian]
-UConn's Roper Center for Public Opinion Research announces a new executive director. [CT by the Numbers, h/t @mikemokr]
POLLSTER UPDATE VIA EMAIL! - You can receive this daily update every weekday via email! Just enter your email address in the box on the upper right corner of this page, and click "sign up." That's all there is to it (and you can unsubscribe anytime).